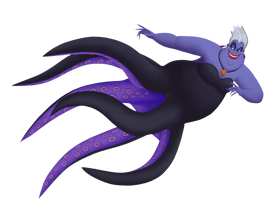 KINGDOM HEARTS II
First Appearance: KINGDOM HEARTS (2002)
Origin: The Little Mermaid (1989)
Japanese Voice Actor: Kujira
English Voice Actor: Pat Carroll
A manipulative sea witch, Ursula once lived in the palace before she was banished for her love of black magic and the power of darkness, a love that persists even until today. She has been scheming to wrest control of Atlantica from King Triton, nearly succeeding in Kingdom Hearts, but she was defeated by Sora, Donald, Goofy and Ariel even with the trident at her side.
Ursula returns in Kingdom Hearts II, approaching Ariel once more in her time of need. Under the pretense of wanting to help, she convinces Ariel into making a deal with her: In exchange for her voice, Ariel would be turned human and is given three days to make Eric fall in love with her, otherwise she will belong to Ursula forever. The deal is made, the contract signed, now all the Sea Witch has to do is lean back and watch as the now mute Ariel struggle to communicate with Eric.
To her horror, Eric falls in love with Ariel despite the barrier in communication. Deciding to take matters into her own tentacles, she transformed herself into a beautiful woman named Vanessa, and hypnotized Eric into falling in love with her using Ariel's voice. Her plot is foiled once Sora destroys her necklace, but the deadline is up. Once Triton sacrifices himself in exchange for Ariel's safety, the trident and crown is hers once again. Nevertheless, her most prized obsession turns against her once Eric uses the trident to spear her, destroying her and releasing her hold on Triton.