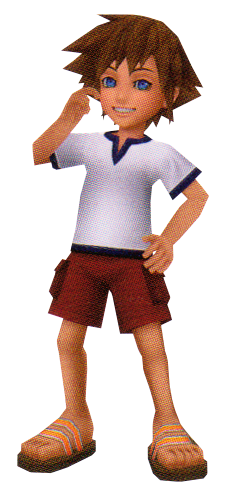 KINGDOM HEARTS Birth by Sleep
First Appearance: KINGDOM HEARTS (2002)
Japanese Voice Actor: Takuto Yoshinaga (Young Sora), Miyu Irino (Sora)
English Voice Actor: Luke Manriquez (Young Sora), Haley Joel Osment (Sora)
Darkness, pure darkness. The little ball of light, the newly born heart floated this way and that within the unyielding blanket of shadows, trying to find its way towards its destination. What was its destination? The body of a newly born child on a peaceful world called Destiny Islands. That is where it needs to be; that is where his home lies. The heart couldn't see his home, but it could feel the connection bound within the two, and unconsciously followed it.
It had almost reached it when it saw a light, bright and warm, yet flickering, dimming, on the verge of becoming extinguished. It followed it to the heart of another boy, hurt and confused. His name is Ven, and through a series of unfortunate circumstances, the fragments of his heart could just barely hold itself together. Any second now, it would crumble to pieces. The newborn heart couldn't bear to see someone hurt like Ven was, and in that instant, decided to open up his heart and forge another connection, through which the fragmented heart could be sustained. The deed fulfilled, it continued on its way, going where it belonged.
~♥~
With sweat on his brow and sandals that barely managed to stay on his feet, Sora sprints across the sand alongside his best friend Riku, in another one of their little races. It was always a competition between the two, and no matter what the outcome, no matter how futile the attempt, Sora would continue trying and trying until he could one day achieve victory. This time however, it goes without saying that Riku would be champion yet again, scampering across the bridge and onto the paopu tree seconds before he could.
After he caught his breath, he noticed his father off in the distance, beside the rowboats at the dock of their play island. Another opportunity within his sight, he quickly challenged Riku to another race and ran off, unaware that this time, Riku had no interest in chasing after him. He darted out of the stairway and across the sand, stopping to look at the stranger by the water's edge, Terra, before continuing on his way. When he turned around, he saw Riku speaking with Terra.
He called out to Riku, beckoning him to come over. Once he did, he immediately bombarded him with questions about Terra and their conversation, to which all were replied vaguely as Riku simply danced around the question to avoid answering. Impatient and equally curious, he continued to ask as the two returned home for the day.
Shortly after the encounter with Terra, Sora and Riku found themselves in the company of another stranger after racing to the bridge again, the blue haired Keyblade wielding maiden, Aqua. She smiled at them, leaping down suddenly with great accuracy and landing just in front of the children, causing Sora to leap back in shock. For a while, she simply gazed at them, baffling them with her strange actions. Aqua began asking them questions, requesting their names, and about their relationship. The two boys were quite confused, but replied back, eagerly in Sora's case.
Aqua then, followed up with more questions, specially for Sora, asking him to take care of Riku should he go down the wrong path. Sora didn't understand one bit, but he agreed, earning a smile and a head pat from Aqua, before heading back home.
~♥~
As Sora and Riku begin heading home after a peaceful night of star gazing on the beach, Sora begins to cry, the exact reason of which unknown. He felt like something was squeezing him inside, and Riku suggested that he open up his heart and listen. Once he did, he found himself, or rather, a representation of himself on a strange platform surrounded by darkness, his heart. A ball of light gently floated down to him, revealing itself to be Ven's heart, who had followed the connection he had established with Sora's heart four years ago. Ven was hurting, and he couldn't return home the way he was at that moment, so Sora offered to let him stay with him. With Ven now content that he wouldn't be alone, Sora opened his eyes and smiled, glad that he was able to help another.
~♥~
Sora sat on the paopu tree holding King Mickey's letter and bottle, looking out at the horizon as he thought about his future. As Riku approached, asking about his decision, he confirmed that he had indeed decided on an action to take. Once Kairi joined the two and expressed her understanding of his situation, he was able to announce that he would leave on another journey, to help all those who were hurting, everyone who had made him what he is today. And thus, another promise is made with Kairi to meet again, with her lucky charm in hand.