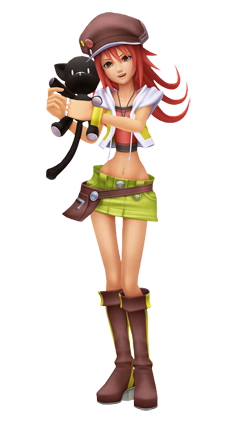 First Appearance: KINGDOM HEARTS 3D [Dream Drop Distance] (2012)
Origin: THE WORLD ENDS WITH YOU (2008)
Japanese Voice Actor: Anna Hachimine
English Voice Actor: Heather Hogan
A peppy fashionista whose existence came to an end in her homeworld, and so she was forced to play the Reapers' Game.
This version of Shiki came to life when Joshua placed Rhyme's dreams into the Sleeping Realm, and to his surprise, it created phsycial forms of what was left of the group. Now Shiki and the others have a second chance.
Shiki and her constant companion, Mr. Mew, meet Riku upon his entrance to the Sleeping Realm. There, Riku promises to assist Shiki in her search for her game partner, Neku. The group is confronted by a mysterious and powerful boy in a black hood, and Riku begins to suspect that something has gone very wrong.
Later, Shiki crosses realities and reunites with Neku, however the Dream Eater they need to defeat to get home has crossed realities too. Shiki, Neku and Sora trap the monster in one reality, and Riku and the others trap it in theirs. Frustrated, the Dream Eater flees to another world in the Sleeping Realm.
Riku and Sora promise to destroy the Dream Eater, and end their new friends' mission once-and-for-all. Shiki promises to wait for them in her hometown of Shibuya.