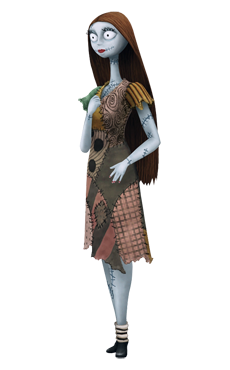 KINGDOM HEARTS II
First Appearance: KINGDOM HEARTS (2002)
Origin: The Nightmare Before Christmas (1993)
Japanese Voice Actor: Yûko Doi
English Voice Actor: Kath Soucie
Despite her mismatched appearance, Sally is the kindest gal you'll ever meet. Built by the genius hands of Dr. Finkelstein, her kind heart is filled with love for Jack with whom she is romantically involved, though she always puts her friends before all.
After Jack's spree in Christmas Town, Sally is tasked with tailoring a Santa suit for him, but his obsession with Santa and with Christmas is a cause of concern to her and she consequently asks Sora and friends to keep an eye on Jack. After the trouble that resultantly transpires, she tells Santa to stay in Christmas Town and to not have anything more to do with Jack for fear of Santa's safety. When Santa is kidnapped by the scheming Oogie Boogie on Maleficent's orders, Sally helps rescue Santa.
Once Oogie is defeated, calm settles back down on the affairs of the two towns, but when Sora turns up things get heated once more. Once Sally notices present-carrying Heartless are back floating around Halloween Town's Square, she notifies Sora and friends so they may take care of them. After business is finished with, she teaches Jack that the best part of Christmas is a wish to make someone happy.