Roo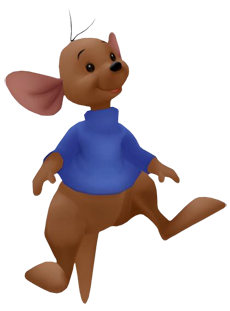 KINGDOM HEARTS
First Appearance: KINGDOM HEARTS (2002)
Origin: Winnie the Pooh and the Honey Tree (1966)
Japanese Voice Actor: Masaya Sugimoto
English Voice Actor: Jimmy Bennett
Roo is a little brown joey, one who is always striving to be better. Roo is always cheerful, always kind, and always energetic, so much so, that it means he can be quite a handful at times. He admires Tigger more than anyone else and strives to one day be able to bounce just like him.
Roo is always by Tigger's side, and he is always there to help Sora and his friends out, either by catapulting Sora into trees in order to find items, or to take part in other mini-games.
---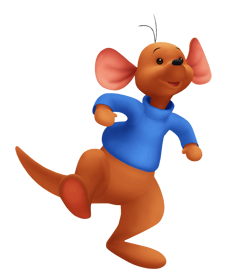 KINGDOM HEARTS II
First Appearance: KINGDOM HEARTS (2002)
Origin: Winnie the Pooh and the Honey Tree (1966)
Japanese Voice Actor: Masaya Sugimoto
English Voice Actor: Jimmy Bennett
The youngest of the animals living in the 100 Acre Woods, even if he isn't the smallest. He makes up for his small height with how high he can jump, however, always aiming to catch up to his bouncing idol, Tigger.
©2016 KHInsider. KINGDOM HEARTS official artwork, trailers, characters, merchandise, and music is copyrighted to Square Enix and Disney.
Original material is licensed under a Creative Commons License permitting non-commercial sharing with attribution.
Please read our privacy policy for more information | Legal Information