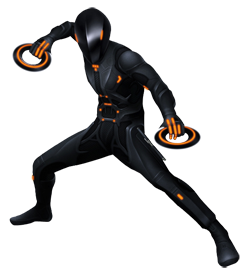 First Appearance: KINGDOM HEARTS 3D [Dream Drop Distance] (2012)
Origin: Tron Legacy (2010)
A particularly lethal program that CLU trusts with the utmost confidence, Rinzler always seems to show up just when he's not needed and wreaks havoc wherever he goes.
In Sora's story, Kevin Flynn reveals that Riznler is actually Sora's friend Tron, just reprogrammed and erased of his true memories. Quorra, Flynn's apprentice and confidant, agrees to acompany Sora on his quest to set Tron free from CLU's control, saying that the Keyblade just might be powerful enough to do the trick.
Sora ends up in a fighting ring for CLU's amusement, and his opponent is Rinzler. Sora uses the Keyblade's light to jog Renzler's memory, but Clu arrives and attemps to hault Sora by destroying him. Tron, in a moment of lucidity, delfects CLU's attack which causes the arena floor to shatter. As Rinzler falls into the dark, he reaches for Sora's hand.
Quorra tells Sora not to lose heart, because his voice DID reach Tron and that means there's still hope.