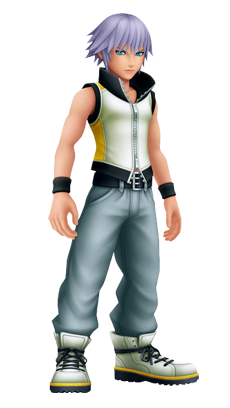 KINGDOM HEARTS 3D [Dream Drop Distance]
First Appearance: KINGDOM HEARTS (2002)
Japanese Voice Actor: Mamoru Miyano
English Voice Actor: David Gallagher
A boy who wields a Keyblade. His battles to save the worlds have often pitted him against the darkness in his own heart.
Now, he is braving the Mark of Mastery examination to find out if he is still worthy of the Keyblade.
After unlocking the seven Sleeping Keyholes, Riku arrived in the same world where Organization XIII had once held its stronghold.
Riku found a spectral version of Sora trapped inside some sort of bubble. He tried to wake his friend, but a personification of Sora's nightmares, a figure in a black coat, approached from behind.
He defeated the nightmare and kept calling to Sora, but it was Ansem who responded and dragged Riku into the darkness for a final confrontation.
Ansem explained that Riku had unknowningly dove into Sora's dreams and become a Dream Eater but he would be of no help to his friends so long as he kept the darkness inside him in check. Riku agreed - but rather than give in to Ansem and accept the darkness, Riku decided to return it to light once and for all. He drew his Keyblade.
After Ansem was defeated, Riku awoke in the real world, but his Dream Eater powers remained. With the help of some Spirits, he was able to reach Sora.
Sora was seated in one of the Organization's thirteen thrones, but the grey-haired youth knocked Riku away before he could get to his friend. The youth revealed that Organization XIII's true purpose was to transfer the heart of Xehanort into thirteen worthy "vessels." Now Sora was about to become the last of those vessels.
As if to drive this point home, twelve other figures materialised and filled the other seats. The youth revealed his identity: he was Xehanort's boyhood form. Just as he was gesturing to the highest seat of them all, King Mickey appeared and stopped time. He tried to rescue Sora, but someone lashed out at the King and knocked him away. Young Xehanort was able to move even when time was stopped! He and Riku fought.
No sooner had Riku bested the youth than time started to flow again, and Master Xehanort appeared in the highest seat. He told Riku and King Mickey about the "seven guardians of light" and "thirteen seekers of darkness" who were destined to clash and forge the χ-blade. They were too late; Master Xehanort's heart was snaking its way toward Sora, and Xemnas and Ansem were barring the way...
Just then, a blaze of fire stopped Xehanort's heart from reaching Sora. Lea had arrived right in the nick of time! The King and Riku were so shocked that they nearly forgot they were in danger, but Donald and Goofy arrived in a flash of light to save the day.
Master Xehanort had failed to claim Sora, but he assured all present that the clash between light and darkness was imminent. Then he and the other twelve members of the real Organization XIII dematerialised and returned whence they came.
They needed to wake Sora up, and Yen Sid said that only one who had unlocked the Sleeping Keyholes possessed that power. And even if that person reached the abyss into which Sora's heart had fallen, they might never return from the darkness. But Riku had heard Sora calling to him, and knew he must be the one to make the dive back into Sora's slumber.
In the abyss, Riku was attacked by a suit of armour clad in deepest darkness. He defeated the armour and freed Sora from its defenses, then watched helplessly as his friend sank into the darkness. Did he do the right thing? Only Sora's Keyblade remained. Riku took it and unlocked the Keyhole.
Riku's eyes blinked open. He was home, on their island. Figures appreaed asking difficuly questions: Roxas; another boy who looked like Roxas; a girl with raven hair. He sensed his answered mattered. When his eyes next blinked open, he found himself in the comapny of Ansem the Wise.
Ansem the Wise gave Riku his research data, which he hoped would serve as a clue when Sora or those connected to him were most lost. The love in Sora's heart would be the only way to save them. With that, the true Ansem assured Riku that Sora had awoken. It was time to go home.
Riky woke from his dive to hear what sounded like a celebration; were Sora, Donald, and Goofy having... a party? Sora threw his arms around Riku when he saw his friend was safe. Somehow, it all seemed very backwards.
Riku passed the exam. He had shown the Mark of Mastery, and so Yen Sid dubbed him a true Keyblade Master. Sora was happy to see his best friend receive such an honour.
As the new Keyblade Master, Yen Sid wasted no time in sending Riku out on his first mission: to retrieve a special guest, the seventh princess of heart, Kairi.