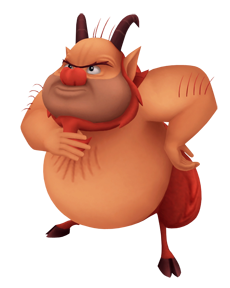 KINGDOM HEARTS II
First Appearance: KINGDOM HEARTS (2002)
Origin: Hercules (1997)
Japanese Voice Actor: Ichirō Nagai
English Voice Actor: Robert Costanzo
A legendary trainer of heroes. Philoctetes, or Phil for short, used to be retired, but when Hercules asked him to be his trainer, the untapped potential within the boy forced Phil back into active service.
In the past, Phil gave Sora, Donald and Goofy the titles of Junior Heroes, claiming that while they have some talent, they still don't know what it takes to be a true Hero. Still believing that, Phil put the three through more training once they meet again, hoping it will help them in their battle with Hades.
Not only a trainer but quite the Hero in his own right, Phil helped Sora battle the Hydra that destroyed the Coliseum, thus bringing an end to it.
At the end, he was still reluctant to crown Sora, Donald and Goofy as anything more than Junior Heroes, but had little choice but to accept the judgment when the Gods of Olympus themselves accepted the three as proper Heroes and realigned the stars in the sky in the trio's image.