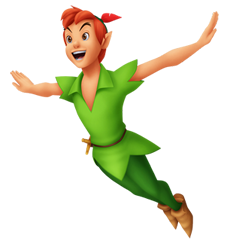 KINGDOM HEARTS Birth by Sleep
First Appearance: KINGDOM HEARTS (2002)
Origin: Peter Pan (1953)
Japanese Voice Actor: Yuu Hayashi
English Voice Actor: Christopher Steele
Peter Pan, the boy who will never grow up, also the leader of the Lost Boys. Peter Pan spends time in Neverland exploring, causing mischief, and tormenting his arch nemesis Captain Hook, of whom he stole the hand of and fed to the Crocodile. He can be very childish but also very compassionate and knows a lot more than he lets on.
In Birth by Sleep, Peter Pan crosses paths with Terra, and the two end up fighting after Captain Hook tricked Terra into thinking Peter Pan was after his treasure. The two end up figuring out the trick before either is seriously injured. He then saves the Lost Boys and Peter from a swarm of Unversed before leaving.
Peter then runs into Ven after Ven takes down Captain Hook. He tells Ven that the real treasure are those item which are cherished most. Ven then leaves his Wooden Keyblade inside the otherwise empty treasure chest so that they may remember him.
When Aqua comes to Neverland Peter makes Aqua their leader to find the treasure, which Captain Hook has stolen again. When Aqua and the boys recover the treasure, Aqua spots Ven's Wooden Keyblade and Peter tells Aqua about Ven and his doings at Neverland.