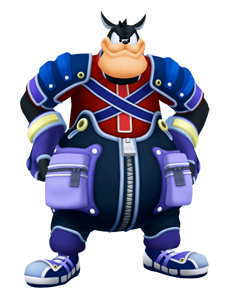 KINGDOM HEARTS II
First Appearance: KINGDOM HEARTS II (2006)
Origin: Steamboat Willie (1928)
Japanese Voice Actor: Toru Ohira
English Voice Actor: Jim Cummings
Pete hails from the world of Disney Castle. He was once a proud steamboat captain but he lost his way as time passed by. He was banished by King Mickey and Queen Minnie for his wrong-doings, only to be saved by Maleficent. Pete in return became her servant, and has been traveling the worlds ever since in order to enlarge the witch's army of Heartless.
The first time Sora's team ran into Pete, it was in Yen Sid's tower. Having heard rumors of Yen Sid's powerful Heart, Pete wished to turn him into a Heartless he could control. His plot was thwarted by the party who also told him Maleficent was defeated. Anxious and uncertain, Pete made his way back to the castle in Hollow Bastion where he witnessed Maleficent's resurrection.
Disappointed in her lackey, Maleficent gave Pete one last chance to redeem himself when he found a door connecting to the past. By passing through it, they could alter events and thus shape the present more to their liking. Pete was only too eager to comply as it brought him to the time where he was still a boat captain and he was reunited with his beloved vessel. Sora, Donald and Goofy soon followed, however, and together with the King and Pete's past selves, managed to thwart the present Pete's plans.
Left with little choice but to proceed with his duties, Pete continued to travel through the worlds, only to run into Sora, Donald and Goofy around every turn. In a final attempt to try and please his mistress, Pete brought Maleficent to Organization XIII's castle in the hopes they could take over it. What they found there was Sora, Riku and the King waging an all out war on the Organization. Preferring the devil they knew, Pete and Maleficent chose to aid the Keyblade Wielders and fought off the Heartless while leaving their enemies to fight each other.
This display of bravery was the last anyone's seen of them, and Pete's fate remains shrouded in mystery still.