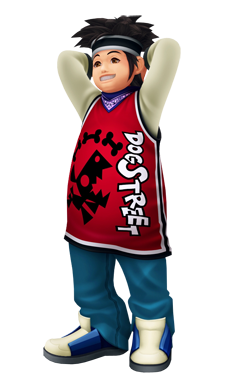 KINGDOM HEARTS II
First Appearance: KINGDOM HEARTS II (2006)
Japanese Voice Actor: Hayato Taya
English Voice Actor: Sean Marquette
Pence is laid back most of the time, and he doesn't rush whenever there's a problem. He likes hanging out with his friends, Hayner and Olette, and sea salt ice cream, but he loves the two together even more!
Roxas was best friends with a virtual Pence in DiZ's digital Twilight Town. He did his part in raising munny for the beach trip that was sadly canceled. He cheered for Hayner and Roxas with Olette during the Struggle tournament, and celebrated with them after Roxas won.
The real Pence welcomed Sora and the gang after accidentally stumbling into their hangout. Sora seemed vaguely familiar to him, too. When Sora returned to Twilight Town, Pence, Hayner, and Olette helped him look for Kairi and the virtual version of their town. With his computer skills, Sora was able to travel to the "Other" Twilight Town.
At the end of the game, the real Pence was cheering for Hayner during the finals of the real Struggle tournament.