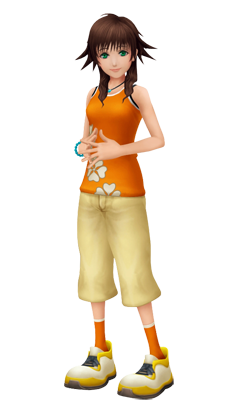 KINGDOM HEARTS II
First Appearance: KINGDOM HEARTS II (2006)
Japanese Voice Actor: Yuka Hirasawa
English Voice Actor: Jessica DiCicco
This Twilight Town femme is as cheery and as upbeat as the orange clothing she dons; part of the tight-knit group composed of Roxas, Pence and Hayner, Olette is known for her motherly nature and her hardworking demeanor - but like all other girls, she can't resist a spot of shopping down in the twilit market her homeland thrives around.
Olette is first seen in virtual Twilight Town as one of Roxas' friends; it is her that pumps the group - Hayner, Pence, Roxas and herself - up to get the summer homework done. When Roxas discovers the truth about the simulation, real-life Olette is none the wiser, though she does think that Sora, when he awakens, seems familiar somehow.
Much later on, Olette befriends an escaped Kairi and relays a message to Sora when he returns that she is looking for him. She joins Sora as he traverses through the Old Mansion and helps to get the teleportation system back up and running. Once fixed, Sora leaves Olette to complete his journey.