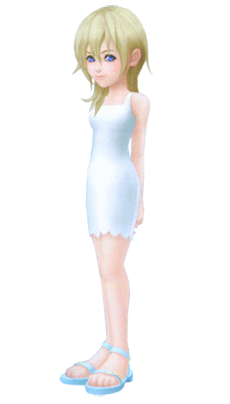 KINGDOM HEARTS CHAIN OF MEMORIES
First Appearance: KINGDOM HEARTS CHAIN OF MEMORIES (2004)
Japanese Voice Actor: Iku Nakahara
English Voice Actor: Meaghan Jette Martin
A mysterious girl with ties to Castle Oblivion. She has powers over Sora's Memories and the Memories of those with relations to him, and was thus used by the Organization in their plan to make the Keyblade Wielder their slave.
In order to make Sora care about her so she could be used against him, Naminé was forced to alter his Memories. It was a gradual process, where at first Sora remembered her being on the island, then as his close friend, and eventually as the person he promised to protect forever and a day. The more Sora's eagerness to save her rises, however, the more Naminé's guilt eats away at her, leaving her distraught and lost as she knows not what to do to help him. Things get worse when she is forced to alter the Memories of Riku's Replica to make him believe he is the real thing, leaving Naminé helpless as she watches the two would-be friends fight each other over her.
It isn't until Marluxia takes a temporary leave of absence that Naminé finally realizes there issomething she can do for Sora, and she runs away from the organization in order to meet with Sora and tell him the truth. She finds him in the floor designed like Destiny Islands, where she must confront Sora and another version of herself - the Naminé she created inside Sora's Memories. Eventually she transforms the good luck charm Sora thought she gave him back into the one Kairi gave him, thus forcing Sora to accept the truth. She reveals everything, from her powers to what she did, to being able to restore Sora's Memories once Marluxia is defeated. The girl cannot forgive herself but Sora does. Despite the falseness of the Memories, he accepts the emotions that came along with them and even when Marluxia threatens Naminé, Sora is willing to have his Memories torn apart in order to save her. Touched by the gesture, Naminé refuses Marluxia's orders, preferring to be hurt and even killed over manipulating Sora further.
After Marluxia is defeated, Naminé presents before Sora a choice - to regain his lost Memories and to forget about her, or to stay with her and forget everything else. She is saddened when Sora chooses to regain his Memories, but that doesn't stop her from being grateful for having met Sora. In response to this Sora makes Naminé a new promise- for them to meet once he wakes up and to be friends for real. With that promise, Naminé is certain that even if Sora forgets about her, they can still find each other - all thanks to the light of that promise.
With Sora already asleep, Naminé lets herself reach out to Riku in his time of need. She appears before him as Kairi when he is about to be swallowed by the Light and tells him that both the Light and the Dark are powers all his own that are not to be feared. They meet face to face soon afterward and Naminé has an offer for Riku - if he went to sleep like Sora, she can seal both his Darkness and Ansem by sealing away the Memories of them. When Riku refuses, Naminé can't help but seem relieved. It was the choice she preferred he made. He leaves with Mickey not too long afterward, and Naminé remains by Sora's side, intent on fulfilling her duty.