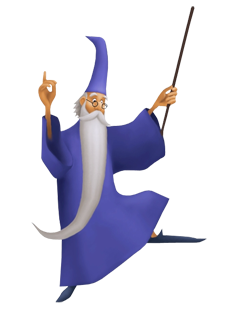 KINGDOM HEARTS
First Appearance: KINGDOM HEARTS (2002)
Origin: The Sword in the Stone (1963)
A wise and powerful sorcerer second to none, he taught Sora and friends about magic at the behest of King Mickey.
Sora and company first encountered Merlin in an abandoned house in Traverse Town while running an errand for Cid. Sora was surprised to hear that Merlin was expecting them and asked if he was a Heartless. Merlin explains that he is a sorcerer, often away from home, and tells Donald and Goofy that the King has requested his help. He is pleased to see that the two have found the 'key'. After unpacking his things from his magical bag and transforming the run-down shack into his study, Merlin informs them that he will be their teacher in the art of magic. He also introduces the three to Fairy Godmother.
Afterward, Sora gave Merlin the old book Cid had asked them to deliver. Merlin thanks them, but when asked what kind of book it is, he replies that he does not know and that it is not even his. The book strangely appeared in his bag one day and he asked Cid to repair it for him. However, he does know that the book is special and the missing pages will reveal its secret. He tells Sora that he can look at it anytime he likes and asks him to give his thanks to Cid.
Merlin trains Sora in the hidden upper floor of his study. He awards the three with special weapons - the Spellbinder, the Dream Rod, and the Dream Shield - when they reach specific levels of proficiency in the magical arts.