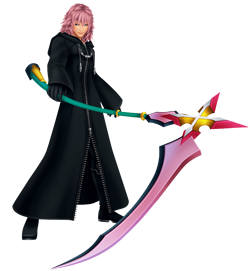 KINGDOM HEARTS 358/2 Days
First Appearance: KINGDOM HEARTS CHAIN OF MEMORIES (2004)
Japanese Voice Actor: Shūichi Ikeda
English Voice Actor: Keith Ferguson
A man with a beautiful face that hides away ugly intentions, Marluxia is Number XI, the Graceful Assassin. Marluxia is very arrogant and vain, and takes great pride in his appearance; every time he removes his hood, a flourish of sakura petals fall, accentuating his deceptive beauty and emphasizing his nature as a snake in the grass, because under his handsome exterior lies a mind of power and greed. Although Marluxia is devious and cunning by nature, he is also known to be very persistent about achieving his goals, letting nothing stop him from reaching his ideals of becoming the Superior of Organization XIII. Although Marluxia sees himself as the crème de la crème of the Organization and thinks of himself as a "mastermind", he doesn't realise that his plans to take over have been spotted by Saïx, who was the one to make the decision to send him to Castle Oblivion along with Vexen, Lexaeus, Zexion, Larxene and Axel, where Marluxia likes to frequently assert his authority, very melodramatic with his title of "Lord of the Castle".
Before he was sent away, however, he took residence at The Castle That Never Was with the rest of his fellow members, often sent on heart collection missions by Saïx. He is polite during the mission that he shares with Roxas - where he shows the newcomer the ropes of heart collection - but once again, Marluxia's lust for power and greed for the Keyblade aren't hard to spot, considering that before Roxas' arrival, the Organization couldn't collect hearts for the completion of Kingdom Hearts. After showing Roxas the basics of his new duties, Marluxia accompanies the boy on heart collection missions, seemingly pleasant in nature while always plotting and planning behind his agreeable façade. It is the same façade that fails to fool Saïx, which ultimately ends up sealing Marluxia's fate at the hands of Sora.
To put it simply, Marluxia is savage on the battlefield, a contradiction to his pretty face and pleasant articulation. It is therefore no surprise to learn that he is generally a well-balanced fighter with a lot of strength and magic, capable of dealing critical blows with his scythe, the Graceful Dahlia, in elegant arcs, graceful slashes and crushing finishing strikes. However, he pays for his savagery with poor defence and sluggish movements - but when on his Limit Break, Bloom-Out, he should not be taken lightly as he shows the true meaning of the sakura petal by combining it with darkness, lashing out at the enemy with his scythe before emancipating his full power in a violent cyclone of death and flowers.