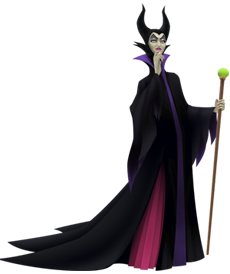 Kingdom Hearts 3D [Dream Drop Distance]
First Appearance: KINGDOM HEARTS (2002)
Origin: Sleeping Beauty (1959)
Japanese Voice Actor: Toshiko Sawada
English Voice Actor: Susanne Blakeslee
An evil fairy hailing from the Enchanted Dominion; she holds great powers over the darkness and commands an army of Heartless to fulfill her goals. Her pale green skin and dark black attire accents her shady, elusive personality teeming with incredible might.
Maleficent and Pete ambushes Disney Castle while Mickey, Donald and Goofy ─ its main line of defense ─ was away and quickly brought it down to her control, taking Queen Minnie, who had been left in charge of overseeing the world, captive. In order to corner her prey, she sends her loyal pet raven Diablo to the Mysterious Tower with a message and the Queen's crown, forcing Mickey to return at once.
Upon the King's return and having placed him in a vulnerable position, she ran down a list of her demands, starting with Disney Castle. However, it was all too obvious that that was not her true aim, and then revealed that this was but a small act of Xehanort's grand play. It was he who had first informed her of the outside worlds, of the Princesses of Heart, and of Kingdom Hearts itself! However, because the method he had prescribed was too complicated, she opted to take an alternate route ─ one that involves Jiminy's digitized journal that she had once infested and narrowly escaped demise from. Somehow this was the key to her success, and what she had wanted all along.
With Mickey unable to fight or risk Minnie's death, Maleficent fired a large burst of her signature green flames at he and his friends, but they were quickly dispersed as a chakram flew out of a Dark Corridor in almost too perfect timing, allowing the Queen to escape from their grasp.
With the upper hand lost and the tide now turned against them, she and Pete quickly flee the castle, proclaiming that she will return to take what she seeks all in due time.