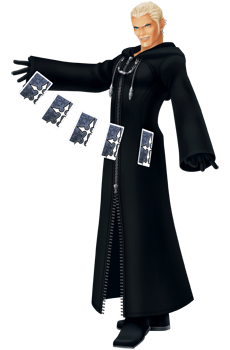 KINGDOM HEARTS 358/2 Days
First Appearance: KINGDOM HEARTS II (2006)
Japanese Voice Actor: Jōji Nakata
English Voice Actor: Robin Atkin Downes
A skilled card-player, master of rhetoric, and number X in the Organization, Luxord views life itself as a game to be played - one which he knows the rules of by heart (figuratively speaking). Always smooth, calm, and collected, he possesses a strange sort of gambler's intuition, leaving matters up to pure chance, with the confidence that he will be the victor. Unlike many of the other members who accompany Roxas in the field, he rarely belittles the naïve Keybearer, choosing instead to treat him with the respect of one member to another. If ever he sees the need to prove himself superior, he mostly does so without putting Roxas down in the process. If not an ally of Roxas, he certainly isn't his enemy.
He accompanies the thirteenth member primarily in Wonderland, an apt world for somebody who fights using a deck of cards. Nudging Roxas along every now and then, he uses his wit to unravel the riddles of the Cheshire Cat, while creating some mayhem amidst the ranks of the Queen of Hearts' soldiers. Be ready for an interesting ride through Wonderland when Luxord is at your side.
Luxord's confidence in the throes of chance is more than evident during combat, as he brandishes his deck of magically-endowed playing cards, and makes use of them quite well. With the grace of a dancer and the showmanship of a magician, Luxord effortlessly manipulates the cards in ways impossible to any but him; they shred enemies in funnel-like vortexes, slap them back with surprising force, and even enlarge themselves and move in unison with Luxord's movements, creating devastating results. Even though these attacks aren't remarkably strong, they have a wide range and affect a large radius, making Luxord adept at crowd control. His Limit Break, Jackpot, incorporates the Gambler of Fate's love for games of chance, as a single enlarged card rapidly switches symbols on its face. If receiving an "X," Luxord is merely stunned by a harmless blast, but if he receives a circle or heart, enemies are assaulted by blast after blast of powerful magic.