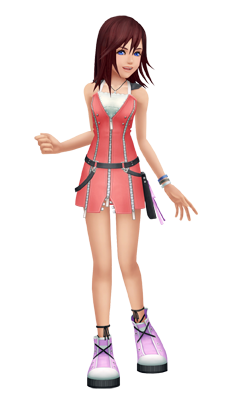 KINGDOM HEARTS II
First Appearance: KINGDOM HEARTS (2002)
Japanese Voice Actor: Risa Uchida
English Voice Actor: Hayden Panettiere
A girl with a Heart of Pure Light, and Sora and Riku's childhood friend. Kairi is originally from the world of Radiant Garden, but was cast out of that world at a young age by Ansem the Wise's apprentice, Xehanort. She reached the Destiny Islands where she met and befriended Sora and Riku as well as Selphie, Tidus and Wakka. She doesn't remember her former home, but that doesn't bother her in the least as she's happy right where she is.
When the Islands disappeared, Kairi's Heart fled her Body and found refuge within Sora's. She was saved when Sora turned himself into a Heartless, thus releasing her Heart and letting it return to her own Body. As a result Naminé was born as Kairi's Nobody, using Kairi's Heart and Sora's vessel.
Kairi in return used her powers as a Princess of Heart and restored Sora to his human form by purifying his Darkness. The two parted shortly afterward as Sora left to save Riku who was trapped in the Realm of Darkness, leaving Kairi behind on the Islands for her own safety.
Sadly, Kairi forgot Sora along with everyone else who knew him when Sora went to Sleep. She was one of the first to regain her Memories of him, however, when Naminé came into contact with Roxas, Sora's Nobody who was born when Naminé was. As a result, Kairi and Sora's Hearts came into contact with each other and Kairi remembered the boy she grew up with. Happy beyond words, Kairi sent out to sea a letter in a bottle she wrote to the boy she couldn't remember.
Being left with no choice but to wait for Sora and Riku to return left Kairi frustrated. A member of Organization XIII called Axel tried to use that feeling by promising Kairi he'd take her to meet Sora, but she escaped into a Corridor of Darkness opened by Riku. Kairi managed to catch a glimpse of him before appearing in Twilight Town where she met Hayner, Pence and Olette.
Unfortunately, Axel found her in Twilight Town and kidnapped her, only to lose her to Organization XIII. She was held hostage in order to fuel Sora's anger, but was thankfully saved by Naminé. The two were soon reunited with Riku who saved them from Saix, and Kairi then learned the sad truth of her friend's fate - he had transformed into Xehanort, the same villain who once kidnapped her and the other Princesses of Heart.
Kairi managed to accept Riku despite his appearance and together they fought the Heartless that stood between them and Sora. Surprisingly, Kairi managed to use the Keyblade Riku gave her and finally received her long awaited reunion with Sora. Riku turned to leave then, but Kairi called out his name. She was the one who made Sora listen to his Heart rather than his eyes and realize who was standing right before him.
She was thankfully unharmed during the final battles and returned to the Destiny Islands while Sora and Riku fought Xemnas for the last time. It was the letter in a bottle she sent before that brought the two boys home at long last from the Realm of Darkness, and the girl was there to welcome them back with a wide, warm smile.