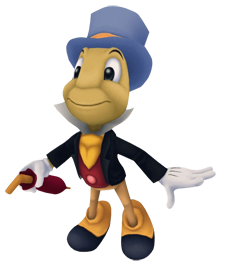 KINGDOM HEARTS
First Appearance: KINGDOM HEARTS (2002)
Origin: Pinocchio (1940)
Japanese Voice Actor: Kaneta Kimotsuki
English Voice Actor: Eddie Carroll
Jiminy Cricket is the royal chronicler in charge of recording Sora, Donald, and Goofy's journeys in his journals. He also happens to be Pinocchio's conscience who "keeps him to the straight and narrow".
Jiminy was delegated the royal chronicler by Queen Minnie as Donald and Goofy prepared for their quest to find the King and the mysterious "key". He was separated from his friends when his world disappeared. He was the only one who made it to Disney Castle.
When the three of them met Sora at Traverse Town, Jiminy sensed that they would be embarking on many huge adventures and told himself that it was all up to him to record it.
When one of these adventures took them back to Traverse Town, he was surprised to find Pinocchio in Cid's accessory shop. He tells the wooden boy how terribly worried he was and even chastises him for lying. He reminds Pinocchio of his promise to Geppetto to be good, so that he could become a real boy. However, Jiminy learns that Geppetto was missing and tells Pinocchio to stay put while he "volunteers" Sora, Donald, and Goofy to find the puppet's father.
Not long after in their Gummi Ship travels, a monstrous creature appeared before them. Jiminy recognized it as the vicious monster of a whale, Monstro, but they ended up being swallowed by the beast. Inside Monstro, they were surprised by Pinocchio who was quickly walking away from them toward a shipwreck. The group met Geppetto, but their meeting was cut short when Pinocchio ran away again after spotting Riku. Chasing after him, they soon find Pinocchio trapped inside Parasite Cage. After defeating the Heartless and freeing Pinocchio, Riku attempted to take away Pinocchio's heart. Jiminy feared that Pinocchio was badly hurt, but the puppet was fibbing again much to his annoyance. After Riku disappeared and Sora and company were sneezed out of Monstro, they flew back to Traverse Town where they found Pinocchio and Geppetto safe.
Jiminy continued to accompany Sora until the end of their quest - and even beyond - in many more adventures...