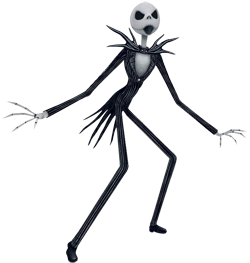 KINGDOM HEARTS
First Appearance: KINGDOM HEARTS (2002)
Origin: The Nightmare Before Christmas (1993)
Japanese Voice Actor: Masachika Ichimura
English Voice Actor: Chris Sarandon
Jack Skellington, the Pumpkin King; the prized figurehead of Halloween Town, adored by the public and held in high regard in all aspects. As his name suggests, he's a skeleton, incredibly flexible due to not being weighed down by flesh, and dressed in a prim black and white striped suit. Saying he's popular would be an understatement; he's revered to the greatest extent anyone could be, like a deity personified.
Jack has a great plan in store for this year's Halloween: a Heartless Halloween Festival. Since they first arrived in town, he's been fascinated by them, so much that he wants to incorporate them into the celebration. He and Dr. Finkelstein are working together to create a heart for the Heartless so that they will dance properly, but even after its construction, the heart doesn't appear to work. His work comes to stop when the heart is stolen, and he enlists the help of Sora, Donald, and Goofy to aid him in its recovery.
With their help, he makes his way to Oogie Boogie's manor, taking down all who stand in their way so as to prevent him from using the heart for his own selfish purposes. However, even after the battle, it appears that their experiment was a failure, and he has no choice but to cancel the plans for the festival and make new ones. Staying positive as always, he doesn't let the disappointment get him down, and already had new preparations in the works for Halloween.