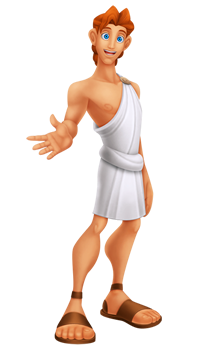 KINGDOM HEARTS Birth by Sleep
First Appearance: KINGDOM HEARTS (2002)
Origin: Hercules (1997)
Japanese Voice Actor: Masakazu Suzuki
English Voice Actor: Josh Keaton
The son of Zeus, ruler of Olympus, he was kidnapped as an infant and turned mortal, although he still retains his godly strength. Until he can prove himself to be a true hero, he will not be able to reunite with his parents and return home. Hercules has enlisted the help of Philoctetes, working himself to the bone and training every waking moment in order to achieve his goals. He is kind and gentle, and doesn't hesitate when a friend is in need.
When Ven arrived in Olympus, Hercules was in the middle of his training with Phil, and just finished registering for the Games. He would soon find himself in a rivalry with a new trainee, Zack, who had traveled far and wide in search of Phil, drawn by his reputation of creating heroes from zeroes. The two of them clashed in the Games, and when the time came to choose between winning the battle and helping Ven, Herc dashed off towards his friend without a second thought.
It was Herc who introduced Terra to the Coliseum. He encountered a swarm of Unversed in the town near Thebes, and found himself overwhelmed by their numbers. The enemies were quickly dispatched by the Keyblade wielder. Upon seeing his strength, Hercules invited him to check out the Coliseum, perhaps entering the Games as well.
Hercules first met Aqua when she arrived, coming aid her in battle when she was swarmed by Unversed. He seemed puzzled at Phil's strange behavior towards the girl, but became elated when he found that not only was she familiar with Terra, but that she would also face Zack in the current tournament. Unfortunately for him, Phil decided to send him off training as the battles went on. Taking Aqua's advice about becoming a hero to heart, he continues to strive towards his dreams.