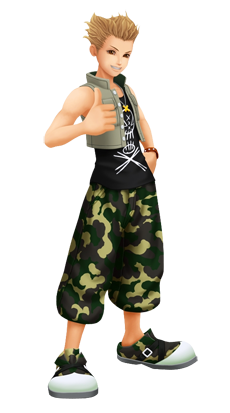 KINGDOM HEARTS II
First Appearance: KINGDOM HEARTS II (2005)
Japanese Voice Actor: Kazunori Sasaki
English Voice Actor: Justin Cowden
Brash and intimidating, Hayner's actually a good guy once you get to know him. If you can get past the slight attitude problem, you'll see just how much he lives to the max - dragging his two best friends Pence and Olette with him! However, he does have a pretty tense rivalry with Seifer.
A digital version of Hayner was Roxas's best friend in the simulation of Twilight Town created by DiZ. He wanted to go to the beach, but the trip never happened. He fought with Roxas and lost during the first round of the Struggle Tournament, but it didn't matter since they split the winnings in the end.
Sora met the real Hayner after waking up in Twilight Town, vaguely recognizing him. He was quite cold at first, but he did see them off at the train station later. When Sora returned to Twilight Town, Hayner, Pence, and Olette helped him look for Kairi and the virtual version of their town.
The real Hayner was seen in the finals of the real Struggle tournament against Seifer at the end of the game.