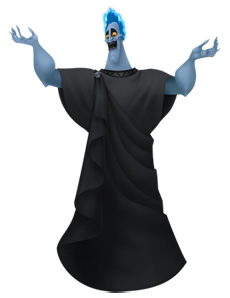 KINGDOM HEARTS Birth by Sleep
First Appearance: KINGDOM HEARTS (2002)
Origin: Hercules (1997)
Japanese Voice Actor: Kyusaku Shimada
English Voice Actor: James Woods
The infamous God of the Underworld, Hades arguably spends more time causing mass mayhem and mischief in the living world than overseeing the lost souls who have long since passed. He constantly schemes away, plotting to overthrow Zeus, the ruler of Olympus, and dominate the world. In his free time, he searches for a mortal with impressive strength to help him achieve his evil deeds.
As it so happens, Terra became his unsuspecting target this time around; the perfect pawn, completely oblivious to Hades' current track record and reputation. Hades acted under the guise of helping him conquer the darkness within and obtaining the power to overcome it, though his plans proved worthless as Terra swept the competition without using even an ounce of the darkness. He even went so far as to instill the power of darkness within Zack, enslaving him and turning him into a warrior of darkness, all so that he would be able to draw out Terra's power. Needless to say, his plans were thwarted by the Keyblade wielder, proving that darkness just wasn't all it's cracked up to be.
Later on, word managed to reach Hades about another warrior plowing through the ranks of the current Games. To his surprise, the warrior was actually Aqua, and he tried to recruit her into his ranks with the offer of darkness. His offer was refused point blank, though the lord of the underworld doesn't cope well with rejection. He returned in the Finals with the Ice Colossus in tow, only to be struck down.