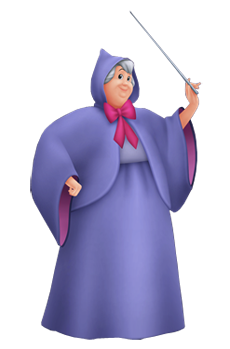 KINGDOM HEARTS Birth by Sleep
First Appearance: KINGDOM HEARTS (2002)
Origin: Cinderella (1950)
Japanese Voice Actor: Hisako Kyōda
English Voice Actor: Russi Taylor
A maternal being with mastery over powerful magic, the Fairy Godmother only appears to those who trust in their dreams. To preserve Cinderella's belief, the Fairy conjures a ballgown, pumpkin carriage and glass slippers for her to attend the ball. The Fairy Godmother reveals to Terra that Cinderella's everlasting faith has caused the light to shine strong and pure within her heart, thus elevating her to become one of the Princesses of Heart.
The Fairy Godmother continues to passively watch over Cinderella, but when Aqua prepares to physically confront Lady Tremaine's darkness, she steps in and intervene. Light and darkness cannot be pit against each other, she cautions, as the results of such a battle would be devastating. There has to be a balance, and to maintain this balance, she enlists Aqua to help Jaq free Cinderella from imprisonment.
Though Cinderella eventually reaches a happy ending, Aqua is still confused over this new ideology that light cannot be used to defeat darkness. The Fairy Godmother advises her to continue on with her journey, as the lessons Aqua will learn will eventually culminate into an understanding.