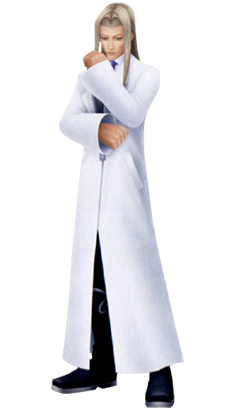 KINGDOM HEARTS Birth by Sleep
First Appearance: KINGDOM HEARTS Birth by Sleep (2010)
Japanese Voice Actor: Nachi Nozawa
English Voice Actor: Derek Stephen Prince
One of Ansem the Wise's apprentices, he is a researcher studying the workings of the heart. He also takes care of the orphan, Ienzo, along with his master and the other apprentices.
He makes his first appearance when Dilan and Aeleus were about to leave their posts to chase after Ventus. He reminds them of their duties as the palace guards, and should anything go wrong it would be their responsibility. Aeleus argues, concerned about Ventus and the Unversed, however Even assures him that Ventus can take care of himself because he is "special". He also informs the two that their master was asking for them. He notices that Ventus has no darkness in his heart, as if it had been forcefully removed. Thinking that it was highly unlikely, he returns to the castle.
He is seen again looking for Ienzo and finds him with Ventus and reminds the young boy not to go off on his own because of the dangers. He thanks Ventus and explains how Ienzo came under their care after the boy was orphaned. Ventus asks Even if he has seen Terra. Even tells him that he saw Terra in the castle garden. Before they part ways, Even tells Ventus that he has a feeling that they are fated to meet again in the future.