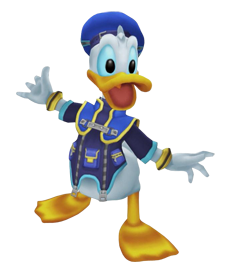 KINGDOM HEARTS
First Appearance: KINGDOM HEARTS (2002)
Origin: The Wise Little Hen (1934)
Japanese Voice Actor: Kōichi Yamadera
English Voice Actor: Tony Anselmo
The royal magician, whose skills are as great as his short temper. Despite his stubbornness, he is loyal and dependable subject, and a friend who will stick with you through thick and thin.
Donald was looking for the King Mickey in his throne room, only to find an empty throne and Pluto with a letter containing his seal. Donald panicked and immediately went to find Goofy. After informing him of the crisis, he made Goofy swear to keep it a secret even from the Queen. Ironically, Queen Minnie and Daisy were behind him. The letter contained instructions to Goofy and Donald to find a certain "key" that was essential if they are to survive the coming threat. They were to look for a man named Leon who would serve as their guide. King Mickey also asked to Donald to apologize to the Queen on his behalf.
Donald and Goofy flew to Traverse Town accompanied by Pluto and Jiminy Cricket. While looking for Leon, they met a young woman named Aerith who happened to be a friend of Leon's. She told them that she also knew about the King and informed the two of the recent events that have been happening in the different worlds regarding the Heartless, the Keyblade, and a man named Ansem, and how they were connected to the King's disappearance. They were about to meet up with Leon when Yuffie came running from the adjacent room, flattening Donald between the door and the wall, because Heartless suddenly appeared. Donald and Goofy fought the Heartless and ended up at the Third District. An explosion sent them flying and they landed on top of Sora. They knew he was the "key" they were ordered to find when the saw the Keyblade. However, defeating the Heartless in front of them had to be settled first.
Once the Guard Armor was taken care of, the three made their introductions and Goofy and Donald explained their quest and invite Sora to join them in their travels to find the King and Sora's friends, Riku and Kairi. Donald wasn't sure about finding Sora's friend, but he managed to convince Sora to cheer up nonetheless and the boy agreed to travel with them. Sora and Donald did not always see eye to eye, and there were many instances when the two clashed, but they became good friends in due time. They encountered many friends and foes alike during their adventures to various worlds, along with several hardships that served to strengthen and deepen their bonds.
Their friendship faced the most difficult test when the group arrived at Hollow Bastion, Leon's home world. They found Riku who suddenly revealed himself to be the "true" Keyblade master, and to their surprise, the Keyblade left Sora and came into Riku's possession. Donald and Goofy were forced to leave Sora to follow the Keyblade. However, Sora did not give up and managed to catch up with them and Riku. His old friend attempted to eliminate Sora, but Goofy blocked the attack just in time, declaring that he simply could not betray Sora even though it meant going against the King's orders. Donald believed the same - "all for one, one for all". Finding new strength in their faithfulness as friends, Sora regained the right to hold the Keyblade.
They fought with Maleficent and Riku, who was eventually possessed by Ansem. Things were going well until Sora sacrificed himself in order to save Kairi's heart that was residing in his body by stabbing himself with Riku's dark "Keyblade". He turned into a Heartless, but Donald and Goofy could do nothing. They escaped with Kairi, Donald reminding Goofy that they had to get out of the castle alive first. As they were about to reach the exit, a group of Heartless stood in their way. Donald attacked one Heartless with his staff, but Kairi realized it was Sora and with her help he was able to regain his original form. Donald was embarrassed, but thankful just the same.
They were able to leave Hollow Bastion and reach Traverse Town safely, but Sora, Donald, and Goofy returned to Hollow Bastion not long after to seal the last Keyhole. The three journeyed on into the End of the World and fought the last battle with Ansem. Ansem lost, but he would not admit defeat and opened the doors to the Realm of Darkness, believing Kingdom Hearts would give him the power to win. He was mistaken, for Kingdom Hearts was light as Sora had declared, and vanished into nothingness. However, the Heartless grew restless and threatened to invade the Realm of Light. The three tried to close the doors, but they could not do it on their own. Just in time, the King arrived wielding the Keyblade of the Realm of Darkness, and with Riku, Donald, and Goofy helping them, he and Sora used their Keyblades to lock the doors on both sides. He comforted Sora, Donald, and Goofy, reminding them that there will always be a door to the light and promised to see each other again before the doors closed.
The three were transported to another place, wondering where they should go next when Pluto suddenly appeared holding another letter with the King's seal. They chase after the dog over the hills, marking the start another grand adventure...