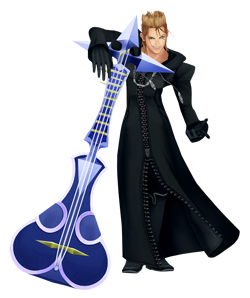 KINGDOM HEARTS II
First Appearance: KINGDOM HEARTS II (2006)
Japanese Voice Actor: Kenichi Suzumura
English Voice Actor: Ryan O'Donohue
Demyx is a bit of an anomaly in Organization XIII; unlike his peers he shows a tendency to run away from responsibility and conflict and would rather be playing his sitar, Arpeggio, rather than making sure Sora is on par with the Organization's plans as per Xemnas' orders.
Demyx's first appearance is at Hollow Bastion with his Organization mates as Xemnas makes the group known to Sora and co. for the first time. Demyx's edgy, reluctant disposition comes through his nervous laugh as he, along with his peers, laughs at Xemnas' dry humor. Unlike Xigbar - with whom Demyx is seemingly on good terms with - Demyx chooses to go on his way after this encounter as quickly as possible.
Since Demyx is quite lackadaisical about his position in the Organization, it is Xigbar's suggestion that Demyx be used to "liberate Sora's true disposition" that lands Number IX in the realm of the Lord of the Underworld Hades, the Underworld at Olympus Coliseum. After a talk with Hades about Sora and friends goes down badly, Demyx flees and rushes past Sora's party, crying "Run! Run away!" before leaving.
In spite of this, Demyx returns to steal the Olympus Stone, an object which the gods use to keep their strength in Hades' domain. It is this object that Sora and friends seek; consequently Demyx is accosted when they find him during their search, and he is forced to do battle. Though his control over his water attribute is strong, he quickly loses and chooses to make his exit rather than continue the fight.
Neither hide nor hair of Demyx is seen until sometime later at Hollow Bastion, where the Nobody waylays the gang of heroes. Sora's comment about Demyx's cowardliness is hardly unforeseen given his habits of avoiding conflict, but surprisingly Demyx decides to prove how wrong Sora is and once again throws himself into battle, though this time his powers exceed those of his time in the Underworld. After an intense, long battle, Demyx finally meets his end like a true Nobody and after lamenting his loss, he disappears into nothing.