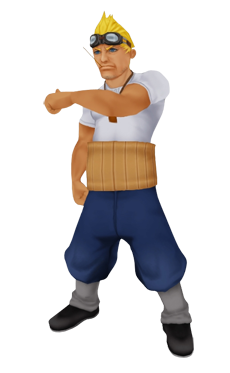 KINGDOM HEARTS
First Appearance: KINGDOM HEARTS (2002)
Origin: FINAL FANTASY VII (1997)
An expert pilot and engineer who also owns an Accessory Shop in Traverse Town. He is very knowledgeable about gummi ships and even built his own to escape when the Heartless overran Hollow Bastion.
Cid was the first person Sora met when he found himself in another world. He explained to Sora that he was in Traverse Town and promised that he would look out for the boy if he got into any trouble. When Sora went back to the shop after going around town still looking glum, he encouraged him to keep looking for his friends.
Sora eventually joined Donald and Goofy and in one of their adventures they found a strange gummi block. They decided to go back to Traverse Town and ask Leon about it, but he didn't have an answer. Aerith suggested that they ask Cid. Back at the Accessory Shop, Cid is surprised to see the gummi block and even more shocked to hear that they've been flying around without knowing what they were doing, which was very dangerous. In their defense, Sora explained that they did not have a choice. Cid apologized, not intending to offend anyone, and offered to install the navigation gummi. With the navigation gummi they could travel to new worlds. While installing the gummi, he asked Sora to deliver an old book someone had asked him to fix.
After delivering the book and running into Riku, Sora went to the Small House in the Second District and heard the story of how Cid, Leon, Aerith, and Yuffie came to Traverse Town. Nine years ago, a witch named Maleficent sent hordes of Heartless to take over their world. Cid used the gummi ship he built to save them. They tell Sora about the report written by their ruler who dedicated his life's work in researching the Heartless. Cid believes that Maleficent had most of the pages. Cid asks about the old book he had Sora deliver and tells them that the new gummi has been installed. He even added a warp gummi as a plus.
Cid found someone else to run the Accessory Shop for him so that he could focus on his "real job": working with gummi ships. Later the trio found another navigation gummi. Cid installed it, but warned them that the place they were about to go to was infested with Heartless. He gave them a transform gummi for extra protection.
Later, after escaping from Hollow Bastion and arriving back at Traverse Town, Sora asked for Cid's help so that he could go back. Cid told them that it was impossible to go back using the same route because of all the Heartless, but they could use a different route with a new navigation gummi. He had hidden a navigation gummi in the secret waterway 9 years ago in case he needed to use it. Sora went to get the piece and CId fixed the ship, but he didn't like the fact that the boy had to risk his life all the time.
After the worlds returned to the way they were, Cid went back to Hollow Bastion... and also reunited everyone with Cloud.