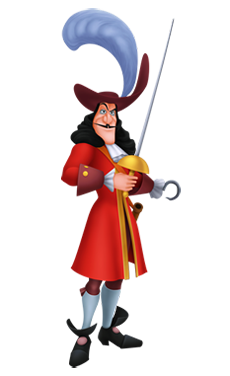 KINGDOM HEARTS Birth by Sleep
First Appearance: KINGDOM HEARTS (2002)
Origin: Peter Pan (1953)
Japanese Voice Actor: Naoya Uchida
English Voice Actor: Corey Burton
Captain Hook is the captain of the pirates of Neverland. He forever seeks vengeance on Peter Pan who was the cause of his lost hand to the crocodile. Hook loves himself and his treasure and is constantly obsessed with getting revenge on Peter Pan. He's extremely short-tempered, but also extremely cowardice in some cases, particularly when he hears the crocodile that ate his hand approaching.
As Terra appears on Neverland he sees Smee and Captain Hook attempting to move a treasure chest, but the two are attacked by Unversed. Terra saves them and Hook manipulates Terra by telling him Peter Pan has been trying to steal his treasure chest which is filled with Light.
After Terra agrees to guard his treasure, Captain Hook goes out in search of more treasure, trying to find the shooting star that Smee saw. When Captain Hook arrives on the sight of the shooting star he finds Mickey's star shard and quickly scrapes it up, at the same time, kidnaps Tinker Bell. Ven see this and chases Captain Hook. The two end up fighting but before Ven can finish Hook, Hook is chased away by the Crocodile.
During Aqua's search for the Lost Boys' stolen treasure she finds Captain Hook, Hook shortly finds out that the treasure was 'worthless junk' and abandons the chest when he hears the approaching Crocodile.