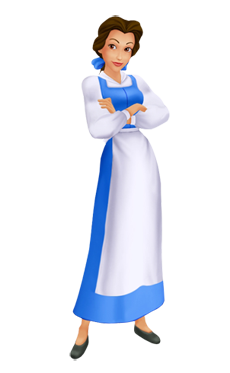 KINGDOM HEARTS II
First Appearance: KINGDOM HEARTS (2002)
Origin: Beauty and the Beast (1991)
Japanese Voice Actor: Eri Ito
English Voice Actor: Paige O'Hara
Belle is a true village dame, but her intelligence and fondness for books has labelled her a social misfit. She yearns of adventures beyond her provincial life, and her wish comes true when she stumbles upon Beast's Castle and is drawn into a sincere but complicated relationship with the Beast. Her capacity to see beyond physical surfaces has helped heal the Beast's loneliness. A year previously, Belle was held hostage by malovelent forces who intended to use her abilities as a Princess of Heart to unseal the pathway to Kingdom Hearts, but has since been returned to the safety of her home through the combined efforts of the Beast and his friends.
Belle's desire to further her romance with the Beast is denied due to Xaldin, whose interference drives a wedge between them. Terrified of the Beast's cold behaviour, she enlists Sora's help to investigate, then takes matters into her own hands. She is disappointed with the Beast's lack of trust in her, forcing everybody to wonder whether the Beast and Belle would be able to sort out their issues before the deadline of the Enchantress's curse.
Sora's second visit heralds unpleasant tidings for the couple when Xaldin ruins Belle's romantic evening, then kidnaps the rose in order to provoke the Beast's anger. Fearing for her safety, the Beast closes his heart to Belle and orders her to leave the castle. Belle is firm in her stand to never leave the Beast's side, but her depressed state leaves her vunerable to Xaldin's manipulations. When her own personal safety is in jeapordy however, Belle proves that she is not just a simple village girl. By landing a well-aimed punch to Xaldin's stomach, Belle is able to ensure that the Beast does not lose both her and the rose. Once Xaldin is defeated, she finally is able to dance her long-anticipated waltz together with the Beast.