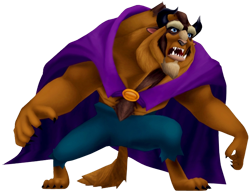 KINGDOM HEARTS
First Appearance: KINGDOM HEARTS (2002)
Origin: Beauty and the Beast (1991)
Japanese Voice Actor: Koichi Yamadera
English Voice Actor: Robby Benson
On a cold winter's night, an old beggar woman sought sanctuary in the warmth of a beautiful castle, but is denied entry by the Prince. This woman turned out to be a beautiful enchantress, who upon seeing that there was no love in his heart, transformed him into a hideous Beast as befitting his dark heart. For years the Beast lived in isolation and despair, for the curse could only be broken if he learned to love another, and could earn that love in return before the last petal of an enchanted rose falls. Years later, a beautiful woman named Belle stumbled upon the castle and learned to love him regardless of his monstrous form. However, the Beast's happiness was cut short when his world became ravaged by the Heartless, and his beloved Belle was taken into captivity.
Although the Beast was supposed to fade into darkness, his strong heart and his unwavering love for Belle illuminated the path for him to reach her, eventually reaching Hollow Bastion without the aid of an aircraft. The Beast's determination to save Belle, even when he was severely injured by Riku, gave strength to Sora, who at that time suffered a crisis of faith following the revelation that he was not the true Keyblade Wielder. The Beast became a powerful ally, lending his strength as a party member to the then weaponless Sora for the duration of that world. Though Hollow Bastion became infested with the Heartless following the opening of the Final Keyhole, the Beast opted to remain behind as long as Belle was still encased in glass and crystal, and rejected Sora's offer to flee to Traverse Town.
When Sora returned to Hollow Bastion, the Beast was finally reunited with Belle in the Library. He consented to allow Belle to continue helping the other Princesses to hold back the darkness, and continued to help Sora in battle. He and Belle eventually returned home once Kingdom Hearts was sealed.