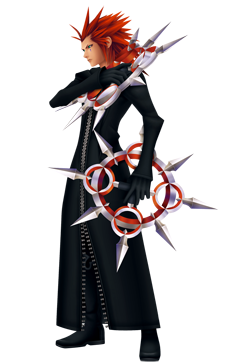 KINGDOM HEARTS 358/2 Days
First Appearance: KINGDOM HEARTS CHAIN OF MEMORIES (2004)
Japanese Voice Actor: Keiji Fujiwara
English Voice Actor: Quinton Flynn
Number VIII of Organization XIII, Axel is a fire wielding Nobody who uses chakrams as his weapons. He is easy to spot thanks to his bright red hair and peculiar tear-like tattoos under his eyes.
Axel meets Roxas as soon as the boy is recruited into the Organization and Axel becomes his care-taker. Two weeks later the two are already best friends, sharing sea-salt ice cream together every day on top of the Twilight Town clock tower after their missions. This routine is postponed until further notice as Axel is sent to Castle Oblivion by Xemnas's orders, which he received from Saix. He is to find the traitors amongst those sent there along with him, and Axel puts in extra effort and also eliminates Zexion and Vexen, two members which were in the way of Saix's personal goals.
Upon returning, Axel is reunited with Roxas and also befriends Xion with whom Roxas met while Axel was away. The three together resume the tradition of sharing ice cream after their missions, and the bonds weaved between them are eventually declared by Axel to be unbreakable as they are the best of friends.
That friendship eventually weights down on Axel's relations with Saix, who knew Axel from even before they became Nobodies - when Axel was still "Lea". The two conspired to overthrow the Organization with Axel being the one who does all the icky jobs, yet when presented with the alternative of friendship with the two younger members, Axel finds his loyalty to Saix wavering. It is especially so when Saix mistreats Roxas and more-so Xion. As a result, Saix decides to punish Axel by appointing him to be the one to drag Xion back when the girl tries to leave the Organization. This puts a strain on Axel's friendship with Roxas, who is unable to believe the lengths Axel is willing to go to to bring Xion back - even if it means hurting her.
It seems Axel knows more than Roxas does, however, including the true nature of Xion's existence and her relation to Roxas, as well as the truth about Roxas himself. Believing that truth will hurt Roxas, Axel keeps it to himself even when he's about to lose the blonde's friendship he cherishes so much. Resilient in his decision, Axel keeps his silence even as the story progresses to its ending, making him face the reality that in his attempts to keep at least one of his friends safe, he ended up losing them both.
Axel appears to be as agile and smooth on the battle field as he is in a conversation. Wielding his two chakrams at all times, Axel likes to dive in for several strikes before keeping his opponents at bay by throwing the two massive weapons at them, to also deal some impressive damage. As befitting his element, he tends to use a wider variety of fire-type magic spells and his Limit Break, Explosion, is rather a simplified form of that. When in his Limit Break, Axel coats his charkrams with massive balls of fire and then fires one or both to cause damage, either in close or long range.