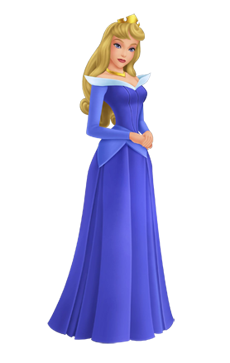 KINGDOM HEARTS Birth by Sleep
First Appearance: KINGDOM HEARTS (2002)
Origin: Sleeping Beauty (1959)
Japanese Voice Actor: Mayumi Suzuki
English Voice Actor: Jennifer Hale
Cursed to prick her finger on a spinning wheel and die on her sixteenth birthday, the infant Princess Aurora was spirited away into the forests of her kingdom by the Three Good Fairies for protection, and under the alias of Briar Rose, remains unaware of her royal status and tragic destiny until the day she meets her true love, Prince Phillip. Fearful th at Aurora has met a stranger who might potentially betray them to the evil sorceress Maleficent, the princess was returned to the castle, only for Maleficent's grim prophecy to come true. Thanks to the Fairies' intervention however, Aurora merely falls into a deep slumber and can only be awakened by true love's kiss.
During Terra's visit to the world, Aurora has been placed in the highest tower of her castle, now reduced to a fascinating object of study by Master Xehanort and Maleficent due to her nature as a Princess of Heart. To obtain Aurora's pure light, Maleficent uses dark magic to influence Terra into stealing her heart, which is then kept under lock and key in the Forbidden Mountains. This theft of the princess's heart is a major contributing factor which fuels Terra's battle with his inner demons, and the deterioration of Terra's, Aqua's and Ven's friendship.
Aurora's heart is later restored by Ven's heroics, but the curse is only broken when Aqua helps Prince Phillip escape Maleficent's fortress, allowing him to give her the kiss of true love.