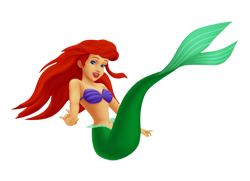 KINGDOM HEARTS II
First Appearance: KINGDOM HEARTS (2002)
Origin: The Little Mermaid (1989)
Japanese Voice Actor: Mayumi Suzuki
English Voice Actor:Jodi Benson
Rebellious and full of life, this mermaid princess of Atlantica longs for nothing more than to be part of the outside world beyond her undersea kingdom. During a stormy night, she saved the drowning Prince Eric and brought him to shore, falling in love with him in the process. However, as contact between humans and merpeople are strictly forbidden, she fled before Eric fully regains consciousness, leaving him only with a memory of her enchanting singing voice.
When Sora, Donald and Goofy return for their second visit to Atlantica in Kingdom Hearts II, they find a depressed Ariel in the midst of Sebastian's concerts. To cheer her up, they bring her a statue of Prince Eric, but the happiness is short-lived when King Triton finds out about her illicit romance, and destroys her grotto. Emotionally shattered, she is susceptible to the manipulations of Ursula the Sea Witch. She exchanges her voice and tail for human legs, and is given three days to receive a kiss of true love from Eric otherwise she will belong to Ursula forever.
Though mute, Ariel is able to steal Eric's heart (figuratively speaking), but her happily ever after is nearly thwarted by Ursula's interference. Sora, Donald and Goofy defeat the sea witch, but Ariel has already been turned back into a mermaid. Despite this however, a blessing from her father and Eric's ability to accept her undersea origins frees her to finally be part of the human world.