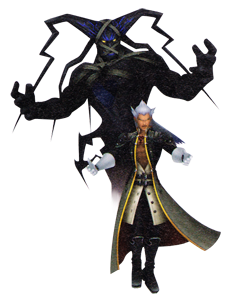 KINGDOM HEARTS 3D [Dream Drop Distance]
First Appearance: KINGDOM HEARTS (2002)
Japanese Voice Actor: Akio Otsuka
English Voice Actor: Richard Epcar
The Heartless of Apprentice Xehanort, he stole his former master's name many years prior and had been wreaking havoc across the worlds with the Heartless in order to obtain the power of Kingdom Hearts, believing that it held great darkness within it. Sora and Riku had defeated him on various occasions, but he always seems to find a way back.
Ansem first appeared to Riku on the roofs of Notre Dame with the silver-haired stranger insisting that Riku return to their side and embrace the darkness, although he was promptly rejected once more. He later returned when the boy arrived in The World That Never Was in order to rescue Sora, taunting him that Sora had fallen deep into the abyss and is trapped within his own dreams; he will never wake up. He revealed that Riku had been traveling through Sora's dreams since the very beginning of the adventure. The moment he saw and recognized the identity of the brown-robed figure on the Destiny Islands, he dove into Sora's dreams to protect him, and has since been playing the part of a Dream Eater, meant to protect Sora from Nightmares. Although Riku failed as a Dream Eater, he refused to fail Sora as his friend and confronted Ansem once more to prove him wrong; that he can protect the things that matter now matter what the cost.
The two met once again when Riku and Mickey tried to rescue Sora from Xehanort's clutches, but their attempts were easily rendered futile at the hands of Ansem and Xemnas. They were able to struggle free with the help of their friends and stall long enough for the gathering to dissipate, and Ansem disappeared until another day.