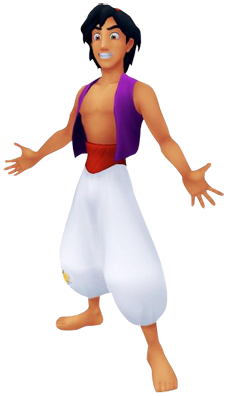 First Appearance: KINGDOM HEARTS (2002)
Origin: Aladdin (1992)
Japanese Voice Actor: Miki Shin-ichiro
English Voice Actor: Scott Weigner
Although constantly referred to as a "street rat" by palace guards, Aladdin is a kind individual who is actually a "diamond in the rough". In the first installment of the Kingdom Hearts series Aladdin, along with his pet monkey Abu, is introduced to Sora at the entrance to the Cave of Wonders. Here Sora, Donald, and Goofy witness Aladdin call upon the Genie who clears the area of heartless. Sora then informs Aladdin that Jasmine, the princess of Agrabah and Aladdin's love interest, is awfully worried for him. And hence Sora's first adventure within this sandy and cultural world begins.
In Re: Kingdom Hearts: Chain of Memories, Aladdin appears as the same kind hearted street rat from before when first introduced to Sora and co. Due to Aladdin's undying love for the princess, Jasmine, the sultan's evil vizier, Jafar, uses this to his advantage in order to steal away Aladdin's magic lamp. It's up to Sora, with the help of Donald, Goofy, and Aladdin, to stop this wicked plan from taking place!