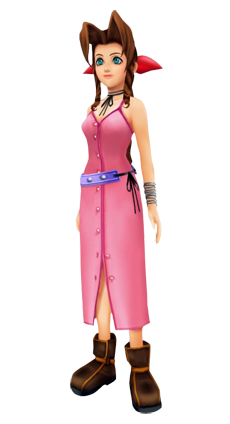 KINGDOM HEARTS
First Appearance: KINGDOM HEARTS (2002)
Origin: FINAL FANTASY VII (1997)
Japanese Voice Actor: Maaya Sakamoto
English Voice Actor: Mandy Moore
Strong but gentle; kind yet unwavering. Aerith escaped from Hollow Bastion with her childhood friends Yuffie and Leon onboard Cid's ship when the Heartless took over.
Aerith found Donald and Goofy in Traverse Town and asked if King Mickey had sent them. She informed the two of how the Heartless had disrupted the order among the worlds, of Ansem's research and his reports that were scattered across the worlds, and of the Keyblade and its chosen wielder. Suddenly, Yuffie entered the room as Heartless began appearing. Aerith followed Yuffie while Leon and Sora fought the Heartless. After dealing with the monsters, Aerith, Yuffie, and Leon gave Sora a few gifts for his journey. Aerith also hoped that Sora would find his friends.
Sora later returned to Traverse Town after finding a strange gummi block. He found Aerith and Leon at the Secret Waterway. The two of them were glad to hear how the Keyblade was able to lock the worlds' Keyholes. They explain how the Heartless use the Keyholes to invade the worlds and destroy them. Aerith asks Sora to lock all the Keyholes wince he is the only one who can. When Sora asks about the gummi block, she tells them to ask Cid about it. After meeting Cid (and other fateful encounters), Sora hears the story of how Aerith and the others ended up in Traverse Town.
When Sora managed to escape from Hollow Bastion after things got nasty, Leon and Aerith asked him to tell them everything that happened. They came to the conclusion that the only way to stop the increasing hordes of Heartless was to seal the Keyhole.
Sora went back to Hollow Bastion, but he did not expect to see Aerith, Leon, and Yuffie waiting for him! Aerith comforted Sora and told him that things would be all right if they defeat Ansem, but it was also time to say goodbye. However, Aerith left Sora with this promise, "No matter where we are, our hearts will bring us together again."
When their childhood home was free once again, Aerith also had another reason to celebrate when Cid came back with someone special to her...