Details

Published on September 26, 2013 @ 06:16 am
Written by Arielle
It has been a few days since the end of Tokyo Game Show 2013 and while there wasn't much shown at the event itself, there is still plenty of things to look forward to in the coming months. Back in August, product manager Hidemi Matsuzuka granted the internet a sneak peek at some new merchandise that was currently in development at Square Enix which included some very adorable Kingdom Hearts enemy figurines.
Today, their true nature has finally been revealed as a set of character straps that can be used on your mobile device or keychain. These character straps are modeled after everybody's favorite enemies from the Kingdom Hearts series; the Shadow Heartless, Flood Unversed, Meow Wow Dream Eater, and Meowjesty Dream Eater!
Currently the price and release date remains unknown, but we will provide more information on this new product when it becomes available.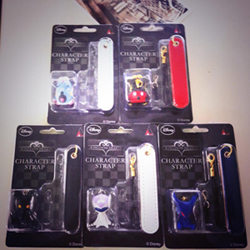 Update (10/27/13): Square Enix product manager Hidemi Matsuzuka has posted images of the individual straps on Facebook. Check them out below:
Source: Hidemi Matsuzuka via Twitter, Facebook