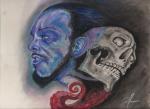 Joined

Dec 23, 2005
Messages

3,803
Awards

1
Age

32
Location
Website
YouTube - Aqua Scenario: Mysterious Figure Defeat lvl 50 Critical Mode
Honestly he's not that hard to deal with, the real problems I encountered were the frame rate lag during his DM/Invisiblity phase.
Other than that he's pretty easily defeated (especially if you're not restricting yourself from using Cure).
So far I believe this is the lowest level he's been defeated on, at least on youtube or online at the moment.
I tried using Unison Rush on MF before I recorded this fight on stream, but it's finisher leaves you way too open for an attack after it's finished (deals about a half a bar of damage though).
-----
I'm attempting a no heal or no damage run (whichever just so happens to occur during the fight) but the frame rate lag during his DM is far too random to seem to be able to pull it off, but here's a look at one of my attempts as well.
YouTube - Mysterious Figure lvl 51 No Curaga Attempt (Failed)