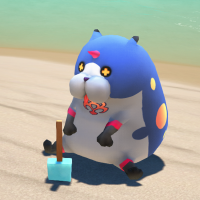 Site Staff Manager
Staff member
It's time to start preparing for the holidays! No matter what you celebrate, whether it be Hanukkah, Kwanzaa, Christmas, New Years or nothing at all, we at KHInsider want to celebrate with you!
The goal of this contest is simple: using whatever medium you desire, express your thoughts and feelings about the holidays. Create art, write a story, compose a song, anything! It doesn't even have to look good so long as you're able to convey your feelings. Of course, this being
Kingdom Hearts
Insider, you'll be requested to keep within the theme.
At a bare minimum, please try to at least reference a character, object or place from the Kingdom Hearts universe within your entry, as vaguely as you want so long as we can discern who or what it is.
You can enter
once in each of the following categories
at maximum:
- Traditional Art
- Digital Art
- Creative Writing
- Song Composition

In other words: you have the freedom to do anything artistic you want so long as it relates to Kingdom Hearts and the holidays.
Maybe you'd like to draw a picture of Terra, Aqua and Ven celebrating Christmas with Master Eraqus in the Land of Departure? Maybe you'd like to design a card from the Radiant Garden gang wishing everyone a happy New Year? Perhaps you'd like to compose a Kingdom Hearts-themed jingle, or write a letter from Sora to Sandy Claws?
Anything goes (
but we expect all of you to be responsible and keep things suitable for all members
).
The deadline lies on
January 1, 2012
at
12:00 AM US PST
. Your entries will be compiled and judged by your fellow members within their individual categories, and then the winners of each category in the final round.
Please send your entries to
Sign
,
Ethnic Woman
, or
Lancelot
.
Thanks to jeels, we also have prizes to give out to the winner of the contest in the form of a fan pack consisting of the first volume of the Kingdom Hearts 1 manga, an Axel plushie and a poster of 358/2 Days. We know that you all have some secret desire to own one of these items~
Happy holidays everyone!
Last edited: