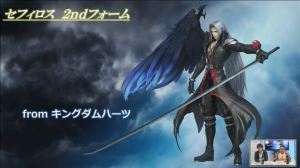 Much like Dissidia 012 Final Fantasy, the Arcade release of Dissidia: Final Fantasy features costume changes for the playable characters. When Dissidia 012 Final Fantasy launched in 2011, it featured Kingdom Hearts DLC variants for both Cloud and Sephiroth. In a livestream held on February 14th 2017 in Japan, Sephiroth's Kingdom Hearts outfit was re-revealed for the arcade version.
Maybe the Kingdom Hearts outfit for Cloud will soon be joining the game as well. If you haven't been keeping up with the Dissidia news, Kuja was recently revealed to be coming into the game, the Director and Producer discuss the console version of the game, and Final Fantasy XII's Rabanastre is an upcoming stage. You can view more about Dissidia, and other Final Fantasy games, on our sister site Final Fantasy Network.
Follow Kingdom Hearts Insider on Facebook, Twitter, and Tumblr for the latest updates on Kingdom Hearts Unchained X, Kingdom Hearts 3, Kingdom Hearts HD 2.8 Final Chapter Prologue and all things Kingdom Hearts!