So i was thinking today, "there has to be a reason it's so... unattractive" and I might have a viable reasoning behind the looks. First, lets take a look at said Xblade,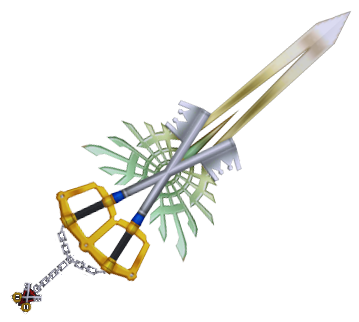 http://vignette3.wikia.nocookie.net/jadensadventures/images/3/34/X-Blade.png/revision/latest?cb=20130729180311
Now lets think about some of the lore in the KH series.
1. The keyblades we see are fashioned in image of the Xblade.
2. The Xblade was shattered into pieces of light and pieces of darkness.
These are the important facts we'll need.
Separately, these facts amount to nothing, but together, these faces could hold some explanation into the image of the Xblade. The Xblade was shattered into light and darkness. In order for this to occur, it must be comprised of both light and darkness. there are two keyblades on the Xblade. I believe one symbolizes light and the other darkness. This would explain why there are keyblades of both light and darkness (as we have seen with the soul-eater [assuming it is in fact a keyblade] and the kingdom key D). But the big flaw comes from the fact of #1. None of the keyblades we've seen have looked like the keyblade in its entirety.
Well if one kingdom key represents light, and the other darkness, then couldn't it stand to reason that the keyblades that were fashioned in "the image of the Xblade" really just be fashioned in the image of the corresponding part? ie. the keyblade parts of the Xblade. This would mean that both the keyblades of light and the keyblades of darkness would look like giant keys. But wait!!! the Xblade has giant keys on it, but it doesn't look like a giant key.
My first point to this is the fact that the name "Xblade" doesn't have the word "key" in it. It is pronounced the same, but only because of the letter "X" (pretend its not an X). As MX said, it could be pronounced "Kye". My point for that is that the Xblade is not a Keyblade therefore it does not have to be key shaped. It might act as a key to kingdom hearts and have the same powers as a keyblade, but it is not a key shaped sword.
My second point is the fact that the keyblades are called that as a play on Xblade, and as a reference to the fact they are keys. Since the Xblade is the key to kingdom hearts and almost acts as the life force, or chi (X) for it (without it, kingdom hearts is lost), it is fitting that it was called the Xblade and not the keyblade.
I know it got a little repetitive in there, but I hope i was able to make a little sense. Im not always the best at explaining my thought process. lol. But it made sense to me.
Last edited: