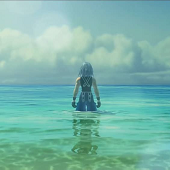 Be Wiser Than the Serpent
Joined

Nov 4, 2012
Messages

3,736
Awards

37
Was ANY of Days or DDD relevant (or even fun) except the final 10-20%? .
From what I remember, yes. I think the only game this would describe is KH2, tbh, which mostly ignored the overarching plot entirely after TT and until TWTNW (with just a dash in the middle at Radiant Garden). So far, KH3 looks like it will have a lot of callbacks to the main plot at the end of every world or two (if not throughout the worlds outright) just like KH1 and 3D did. Days is a weird one to accuse of that, considering you spend pretty much the whole game with Roxas and the Org. The original plot is constantly evolving in that game more than most in the series.
As for fun, I enjoyed 3D very much. I enjoyed Days for the most part even if it was a slog.