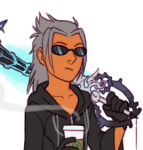 Joined

Jul 5, 2015
Messages

4,525
Awards

20
Whew, good to know that this isn't one of those fics that the author won't continue.
I decided to read over some parts of this a bit more slowly and carefully over the last few days. Since I wasn't speedrunning to find out what would happen next, I took in more of it, and of course, new thoughts popped up.

First of all, just by reading this, I wouldn't know that English isn't your first language. You have a strong command over the language... Stronger than a lot of native English speakers that I know. Of course, it's not completely impeccable. There are a few oddly worded sentences here and there, and some dialogue sounds a bit off coming from certain characters, but those would matter only if you were really being nitpicky about it.

And since the English is strong with this one, the scenes you create with them aren't bad at all either. I recall that, some several dozen posts back, you wanted to make the narrative read like a "mental cutscene." Since I'm able to picture what's going on clearly in my head, I'd say you succeeded in that field. It certainly helps that I already know what a lot of the characters look and act like, but your writing doesn't completely bank on that assumption and gives me plenty of details. The actions scenes are good for these same reasons, as well as lasting long enough and having enough dynamic to grab and keep my interest.

Oh, and while the action scenes are great, the parts that you call "fluff"- those scenes with Roxas and Ventus, the "twins"- those are probably my favorite parts of this fic. It might be because I always liked Roxas to begin with, and Ventus is depicted as a Woobie- a character so frail and helpless, it's endearing. Judging from your sig, you're a big-time Ventus fan, and it really shows because of the amount of care and detail you put into those scenes. Oh, and the "twins'" interactions are adorable. If an avid shipper found this, Roxas x Ventus would probably become their OTP quickly.

Another thing I liked for some reason: your fic has stayed fairly minimal with OC's. At this point, I think the only ones we've had are the virus-hybrids from Space Paranoids (unless they're from the actual movie... never did watch it) and the personification of Sora's darkness, and even then, Evil-Sora is more of a different take on a pre-existing concept than an original fabrication. Otherwise, I've always felt some surge of excitement when a character I thought was going to be an OC suddenly pulls out a weapon that I recognize. I mean, Lightning! Hope! Zidane! It's good to see you guys! Especially when you all stay in-character so well!

So that's all I really got to say. When you're a KH fan, you tend to learn how to be patient, so I'll wait. Really hoping that this'll pick up again sometime this month.