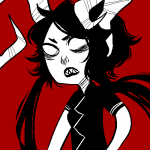 Joined

May 17, 2007
Messages

6,355
Awards

0
Age

26
Location
Alternia.

Eight Trolls; friends, mutual or otherwise, were brought together by paradoxical contrived events to play a game. They all had different backgrounds, and were dotted along different parts of the hemospectrum.

A month before she reached the age of six solar sweeps, potential Hero of Space Treyya Dartan discovered, amongst the mysterious, amphibian-centric ruins near her hive, ancient glyphs on its walls. As any Troll would, she recognized it as programming, archaic or not, but definitely part of some code for a game of some sort. To decipher it all, she went to the one other Troll she knew had some knowledge of games.

Unfortunately, Ristar was not exactly great with computer-based games, but he spent most of his time putting what he dubbed "Sgrub" together. What came off to him as strange, however, was that game's requirement of two players. In fact, more. The game would allow for an endless amount of players, working together, as long as they completed a loop. Normally he would choose to play with others rather than have a single-player game, but helping others?

Asking around, the game received hype among the eight. Some of them conspired, and discussed what would happen. There was an issue rising regarding blood color and taking sides, and if a group of Trolls could truly come together. But whatever, it was only a game.

But "taking sides" didn't matter when the meteors began raining down. It soon seemed less like a game and more like a race for survival into the Medium. Once Ristar released his rushed beta version of Sgrub, there was hardly much time for planning.

He became the server player of guinea pig Morana Nocnia.

Who in turn suckered in Tseita Namnir.

Who in solidarity persuaded Cravan Hestus.

Who in confusion found Ursunz Vorenz.

Who decided to inform Vespis Ravana.

Who brought along Darmon Maleck.

Who through elimination asked Treyya Dartan.

Who finally made Ristar Thales her client player, who begrudgingly put aside his manipulative behavior to act as a leader figure and keep everyone working together.

As their planet and species was destroyed, they escaped into the Medium, making base on their respective planets. Being part of the strong Troll race, they had absolutely no qualms with fighting for survival, and doing so with the most mundane assortment of weapons and gadgets while building up, up, and up to move through their gates. Of course to do all of that they would need to create items to suit their situations or whatever the hell seemed cool at the time. First on the agenda, then:

====> Alchemize.