Joined

Apr 27, 2010
Messages

169
<<<~ffffuuuuu~>>> FORCED CHOSEN ONE IS FORCED (A Sora Hateclub) <<<~ffffuuuuu~>>>
Club Icon:
"It's not the case that when Sora's story is over another hero's story will begin; Sora will be the hero until the end." -Tetsuya Nomura
According to Nomura, WE'RE STUCK WITH THE BRAT!
A long, long time ago… in a topic far, far away…

KINGDOM HEARTS EPISODE III: SORA DIES

It is a period of unrest among Kingdom Hearts fans. Tetsuya Nomura has announced in one of his interviews that "Sora will remain the hero until the very end."

But the fans hated Sora, because he lacked a substantial amount of character development for a game series that has progressed across many different titles, with Sora remaining his simple-minded and reckless self all the way through the franchise.

During the release of Kingdom Hearts 3, fans found a way to go into the game, and KILL SORA to replace him with any other @$$ kicking keyblade wielder of their choice that wasn't touted around as "The Chosen One" without any other reason that sets them apart from the other keyblade users.

Taking a chance, they marched into the game to kill Sora. But they were too few, as it was only a few friends that had went in to kill him. Having barely escaped with their lives, they came to these forums to seek aid, and to share their hatred of Sora with those brave enough to hate him, in hopes that they would one day put an end to Sora's hogging of the spotlight and bring balance to the universe of Kingdom Hearts…
-----
Everyone LOVES Sora right? He's just your average kid who happens to be thrown right into the middle of a bad situation, and yet he just goes CHARGIN' off to SAVE THE DAY, WHOOOOOO!! Sarcasm aside, there are several notable things that make Sora a very HATEABLE character. Wait a minute… Hate? SORA? Can those two words even be used in the same sentence? *Checks dictionary* WHY YES THEY CAN, and that is what this club is all about!
WHY SORA SUCKS:
1. Sora, often rather than thinking for himself, is more of a follower to the point where the commands of others become his sole reason for his journey. In other words, Sora is a complete TOOL.
Sora started out his story as a follower and not an initiator. To some degree he makes his own decisions more frequently, but much of the time he just goes with the crowd. He only wanted to leave the island because Kairi and Riku suggested it. He would've been all too happy to stay in his homeworld if heartless attacks never occurred and he didn't let peer pressure get to him. When he arrives in Traverse Town, he questions why the key chose him but doesn't really do anything to defy the role of "Chosen One" (and you'll see just how ridiculous this title for him has become if you continue reading) forced upon him. When Donald and Goofy come along, he just blindly agrees to go on an adventure with them at the behest of the FF cast. When he wakes up having lost all his memories of Organization XIII from CoM in KH2, Yen Sid tells him that they are evil, and he proceeds to go on a crusade against all Nobodies, to the point of yelling like a bloodthirsty psycho for MORE to kill after fighting Demyx.
2. Sora is reckless and neglectful of his surroundings to the point of being ignorant.
He is all too eager to break rules and not care if it makes matters worse, and he's too neglectful for his own good. Having no experience with a gummi-ship, he just up and grabs the controls from Donald right over Deep Jungle. They all could've possibly DIED in the resulting accident were they not so lucky, and it would've all been Sora's fault. Sora would interfere with a world's affairs, and then fail to pay attention to the results of his meddling. Two princesses of heart were kidnapped thanks to Sora's neglect. When Riku appeared to him in Traverse Town, Sora was too busy bragging about his travels to even notice that his best friend Riku had left and later was STANDING NEXT TO MALEFICENT RIGHT OUTSIDE THE ABANDONED WAREHOUSE!
But did Sora at least TRY to contemplate the extent of what meddling could do to a world? HELL NO! In fact, Nomura has all but dropped that convention of meddling from their storyline since the first couple worlds of the first Kingdom Hearts game, thus eliminating some depth from the storyline all because of Sora's actions!
3. Sora is a hypocrite.
Sora fights against Organization XIII because they are trying to get their hearts back and resort to methods that aren't always the ethical way of doing so. He paints them as evil individuals almost solely due to the fact that they cannot feel remorse, guilt, or pity, yet SORA HIMSELF displays these same qualities whenever he fights them. Sora clamors about how his friends are his power and what-not, yet most of the time he displays that he cares more about complete strangers he just met on his journey (Donald and Goofy, along with the wide variety of guest characters he comes across on his travels) than his actual friends he had already known for years (Riku and Kairi). Usually it's not until close to the very end of each game in the series that his concern for Riku and Kairi are intensified, most of the time he's having too much fun meddling in worlds. Sound familiar? Yeah, Riku hit the nail on the head when he said that Sora cared more about "showing off that keyblade." Except he CONTINUED doing just that in Kingdom Hearts 2!
Sora has very little qualms about fighting Riku when he's at Hollow Bastion and shows almost no indications of wanting his best friend to come back to the light, instead he just goes at him swinging. If Kairi were to turn evil for whatever reason, Sora most likely would've done the same since he seemed to care about her just as little.
4. Sora is forced upon the player as "The Hero" from the very start with little backstory or explanation of his powers, and because of this he is easily replaceable.
Kingdom Hearts 1 gives almost no backstory to him except for the setting in which the game started.
He has appeared in, taken the main role of, or was at least mentioned in nearly every Kingdom Hearts game in existence.
5. Sora's motives fluctuate back and forth throughout his journey, with almost no real path or plan for development
From wanting to go home, to wanting to save his friends, to wanting to kill bad guy after bad guy and chillin' in the worlds. Between charging headfirst and ripping to shreds with the keyblade, to feeling bad for his enemies and wanting to get his memories back, to wanting to kill any Org. XIII member that so much as twitches a finger. Sora can't seem to make up his mind as to why he is saving the world. This happens so much yet he changes so little as a result, that his character development is more like a John Madden football game plan than a singular path to maturity.
So there you have it. Five VERY GOOD REASONS to hate Sora!
Mascot: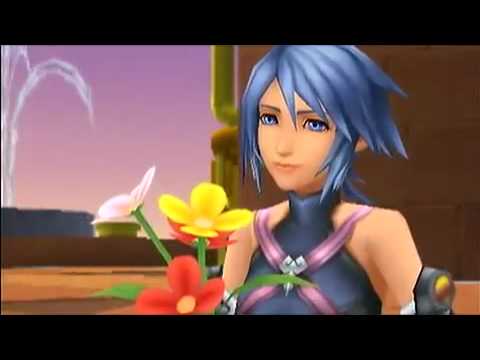 Female @$$ kicker of the Kingdom Hearts universe, one of MANY characters who are more developed than Sora, and possible successor to the "Chosen One" title unjustly held by him!
Alternatives:
It's not too late, you can get help! There are keybladers who kick just as much @$$ as Sora, and who could easily replace him as the main hero of the series!
Founder:
Aqualung


Members:
Aqualung | june | Xion_Z_Forgotten
AxelYoYo | CadenLuminara137 |YUPPP
Weeaboo
COME ON DOWN, WE NEED YOU! If you dislike Sora more than you enjoy him for any of the above reasons, or any of the simplified reasons below:

1 and 2. You think Sora is easily manipulated and is very shallow in his decision making.

3. You think Sora is hypocritical in how he treats his enemies and what his motives are (saving his friends when they aren't his driving reason for his quest except at the very end of each game) and is overly vindictive towards Org. XIII (This is not an Org. XIII fanclub, there's major differences
).

4. You think Nomura shoves him down your throat as a main character or as someone with major impact on the story, or you're just tired of Sora and think BBS was a godsend because it was the one game where Sora had the least presence (and hopefully won't be the last).

5. You think Sora swings back and forth between his motives which leads to barely any character development for him, and you think KH games have become repetitive because of this...

THEN THIS CLUB IS FOR YOU!


​
GALLERY
Member Creations:
Nothing as of yet.
Third-party Creations:



All works listed here are credited to their original authors.
Duck Hunt
"Unlock THIS!"
"That's for taking my freedom!"
"Got it MEMORIZED, punk?!"
Sora CAN speak whale, it's too bad he sucks at it!
Sora is Kingdom Hearts's REAL Aeris
When Sora thinks
How embarrassing...
Demyx-style PWNage!
DENIED!
Team Sora's blasting off agaaaaaaain!
Mission: Kill Sora
Anything you can contribute, whether it's fanart, videos, reasons to hate Sora, whatever, is MUCH APPRECIATED!
To contribute, just go ahead and post it in this thread, and I will update whenever I can!
RULES
1. NO FLAMING

Keep the hate to SORA only and don't hate his fans, Sora fans please respect our opinions and we will respect yours.

2. ABSOLUTELY NO RIPPING

If you post artwork here claiming that it's yours and I find out that you ripped it from someone, I will personally kick you out of the HC and you will be left for the moderators to deal with.
Last edited: