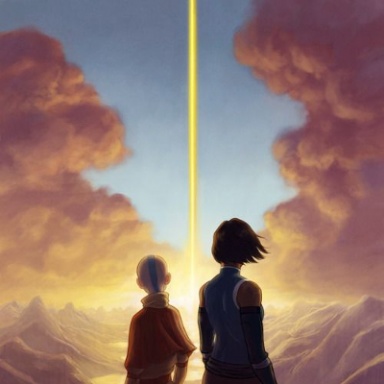 Joined

Jan 8, 2015
Messages

374
Location
Last year I created my own account on Fanfiction.net because I had a lot of ideas about what would happen in the KH universe after Kingdom Hearts 3 that I wanted to get out of my head. Initially, I didn't want to do a fanfic of my Kingdom Hearts III predictions, but after a few really entertaining theories and crazy ideas, I was inspired to give it a try. I finished posting the last chapter right before New Years' Eve 2015, and now that I've found KHInsider's fanfiction boards, I'll be re-posting all 106 chapters (counting the prologue and epilogue) of it here for you all to enjoy, with minor adjustments to correct small grammar errors and plot inconsistencies that went unnoticed when uploading them on fanfiction.net.

And for clarification so nobody gets confused:
"Talking"
Thinking
"Written Text"
"Speaking in another language"
"Singing"

One last thing: I tried to be as close to canon as possible in this story, but some of the elements I've included in this fic have been overridden by recent Chi updates and contradicted by the inclusion of BBS 0.2 in the 2.8 Final Chapter Prologue, which was not announced until long after I had already written Aqua's rescue from the Realm of Darkness. With that out of the way, enjoy the show.
[HR][/HR]Prologue: The Key On The Beach:
Destiny Islands - Seashore:

Man, time flies, Sora thought to himself as he walked along the beaches of Destiny Islands. It feels like just yesterday when Riku, Kairi, and I were building a raft to explore beyond the islands. After failing his Mark of Mastery Exam, Sora had spent a few hours in the Realm of Sleep with the Dream Eaters he'd befriended on his travels. He hadn't told anyone, but as much as he felt it was only a formality, failing to prove himself a Keyblade Master had hurt him more than he wanted to admit. It stung to be told that despite everything he'd accomplished, he was not a true Keyblade Master.

After spending some time in the Realm of Sleep, he went back to the Islands to talk to his parents about the test. When he'd returned home after defeating the Organization 2 years ago, he told his parents everything about what he'd been doing for the past year. He'd been expecting them to freak out and forbid him to leave the world on any more adventures. But while they were a little shocked and surprised about everything, they took it all in stride, and were fully supportive of his life as a Keybearer.

Riku, King Mickey, and Master Yen Sid had insisted that he stay on the Islands for a while to rest and recover from having his heart shattered by Xehanort. His parents had done a remarkable job helping him deal with his emotional scaring. (Which, considering his dad was a full time psychiatrist, wasn't really a surprise) The young man truly appreciated the fact that his parents would help him with his problems, even if they didn't fully understand all of them.

Being away from the action had helped him at first, since Xehanort had yet to make his move. But now that Kairi had started training to use her Keyblade, he wanted to get off the island again. While Kairi was far from helpless, she wasn't as experienced at wielding a Keyblade yet as he and Riku were, so Sora was nervous for her. Riku had assured him that she'd be fine, but just the thought of thirteen Xehanorts lying in wait, ready to snatch Kairi and the other six Princesses of Heart at a moment's notice, put the teenager on edge.

His silent reflection was interrupted when he looked down the beach and saw something lying in the sand. Curious, he leapt down from the wooden bridge that stretched out towards the small island where he, Riku, and Kairi spent their evenings. As he walked towards the strange object, he immediately recognized several key features: the long shaft, the guarded hilt, and the teeth. By the time he held the object in his hand he knew exactly what he was looking at: A Keyblade.

But whose Keyblade is it? He thought to himself as he looked at the ebony blade with a look of curiosity and confusion on his face. And how did it get here? After a brief glance at the ocean, he turned around and scanned the shoreline for any sign that anyone was here except himself. But no one was there. There were no corridors of darkness. No agents of Xehanort waiting in the shadow of a tree. Just him and a mysterious Keyblade, alone on the beach. "Maybe Master Yen Sid will know more about this," he said aloud as he placed the Keyblade in his boat while he prepared to paddle back to the main island. Riku was supposed to be back from Mysterious Tower tonight, so Sora resolved to get a ride back to the ancient Keyblade Master's home with his best friend.
[HR][/HR]Realm of Darkness - The Dark Margin:

On the outermost shores of the Realm of Darkness, the blue – haired woman's eyes suddenly snapped open with a look of surprise. Next to her, the man in black noticed her behavior and looked over at her.

"What is it?" the man asked. The two of them had spent a majority of their time in the Realm of Darkness here on this beach. Since the man, who could no longer remember his name, told her about Sora, the young Keyblade Wielder who would eventually free them from this sandy prison, the two had not left this area. They carried on conversations with each other to ensure that the woman's memories would not fade, nor would the man lose what few memories he had left.

After a few minutes of silence, the woman answered.

"Our message has been received," Aqua said, referring to how she set her Keyblade adrift in the ocean months ago, like a message in a bottle, hoping that the boy the man had spoken of would find it and come rescue them. "He'll be coming for us soon."

Last edited: