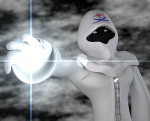 Joined

Apr 21, 2005
Messages

5,800
Awards

2
Age

26
Location
Re: The Official BBS VA Discussion Thread
I actually didn't like a lot of Re:CoM voice acting. I didn't like Zexion, and Marluxia voice whatsoever, while Larxene voice fit that it made me think of her as even more of a beotch, and it was funny hearing 15 year old Sora in his 13 year old form. Derek Stephen Prince fought tooth and nail for Vexen so much that he thought he wouldn't even have a chance of getting him from when he audtioned he even saw Mark Hamill try do a character for the series. (As said by him from when I met him at his last panel) David, Richard, Quinton, and Derek were the only ones I really enjoyed in the game.

But I agree the no lip-syncing made things seem very off due to Re:CoM being under such a low budget.
Marluxia's voice grew on me. I think the voice itself was good but it didn't fit his appearance at all.