Kokoko253:
I re-watched every single scene in the Arendelle FROZEN arc of KINGDOM HEARTS III, and Anna doesn't look at anyone other than Sora the way that she looks at Sora specifically in the first two pictures.

As for the others, I'm not assuming anything, given the context. I recommend that you watch live action, animated, or computer generated stories with good actors or good facial expressions and/or body language. You'll understand what I mean then.

Ava is *far* more considerate of Ephemer's feelings, and playful with him, than with anyone else in BACK COVER, and it has nothing to do with hierarchy. The other Foretellers are *Ava's lifelong friends,* yet she's more distant with them than with Ephemer.

Lastly, I *highly doubt* that Ava smiles at other people the way that she smiles at Ephemer at the end of her scene with him in BACK COVER, considering the nature of her facial expression, no matter how kind she is and no matter how easy to talk to she is. You *don't* smile at someone like that unless you have a *very strong connection* with that person. I recommend that you re-watch Ava's scene with Ephemer.

You're the third person on this Site, assuming I'm not forgetting anyone, who has told me that you can't understand anything from a person's facial expressions or body language. That makes no sense. One of the central points of using plays, live action movies, live action television, hand drawn animation, and computer graphics animation to tell stories is to convey characterization with facial expressions and body language. Now that Video Games have enhanced their graphical abilities enough, they're doing the same.

If movies, Video Games, et cetera, didn't do this, why aren't we just reading books? Why are plays, television shows, hand drawn animation, Video Games, et cetera, worldwide storytelling mediums?

Paul

"Elsa ran away because she was frightened. I have to bring her home."-Anna
"I'm sure your sister knows how much you love her. If anyone can help her, it's you."-Sora
KINGDOM HEARTS III
I brought proof: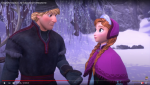 Here you can see that Anna loves Eristoff.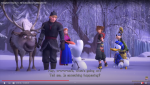 Here, you can see how lovingly Anna looks at Snowdude. Dude should be thankful that hot look didn't melt him down.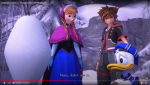 And lastly, you see here that Anna is, in fact, in love with Donald. You might argue that she is just hungry and imagining the taste of roasted duck, taken freshly from the oven, but for the trained eye, this is clearly love.
But what is even MORE important than what we see, is what we DON'T see. Anna is too shy to show her true love, who is Goofy. Actually, it wasn't Elsa's love that saved her, if you watch the cutscene closly, you can see that the ice on her melts when Goofy arrives close enough of her! And I have the perfect proof! I just scanned this letter I got today, from my penpal, Nomura, who shared his ideas with me on the matter: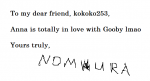 Truly amazing relevation, just when the latest Union Cross confirmed that Ephemer is actually Goofy from an alternate timeline, where Donald took Xehanort's place as crown guardian of Corneria. Is this a hint that Ava might be Tangled from Elsa?