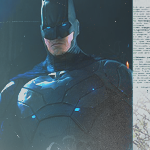 Joined

Aug 20, 2005
Messages

5,089
Awards

0
Not sure if there was a thread for this or not (yes I searched for one). I know the Tintin comics or the character itself isn't that big in the US, but I know for a fact that it's huge in other parts of the world. I remember seeing a couple of episodes of the animated series on HBO and I loved it. As soon as I heard that Steven Spielberg and Peter Jackson were working on this together I got super hyped. Also, Edgar Wright (Writer/Director of
Shaun of the Dead
,
Hot Fuzz
, and
Scott Pilgrim vs. the World
) being one of the writers just added on another shitton of hype for me. Movie is set to be released during Christmas
The Adventures of Tintin: Secret of the Unicorn - Wikipedia, the free encyclopedia
I can't remember which novels this one is based off of, but it is planned that if this one is successful, there will be two more. The second to be directed by Peter Jackson, and the third to be directed by both Spielberg and Jackson

edit
: I neglected to mention the other two amazing writers, Steven Moffat (has written
Doctor Who
,
Sherlock
, and
Jekyll
) and Joe Cornish (writer of
Attack the Block
)
edit 2
: Found another trailer. Almost exactly the same as the one above, except you can here dialogue from Daniel Craig's character (Red Rackham) at the end. And for those who are curious, the score is composed by John Williams. The three stories the film is based off of are
The Crab with the Golden Claws
,
The Secret of the Unicorn
, and
Red Rackham's Treasure
.
Last edited: